Anything Electric
Call 866.355.7164 or Contact us here and we'll match you with trusted Contractors
Address: 276 Dogwood Drive, Canton, GA 30114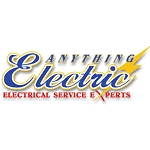 Services Offered
Type of Jobs:
Residential
Commercial
Services:
We work in
About Us
Here in greater Atlanta, electrical service needs vary from home to home, and business to business. However, there are certain things that every property owner should rightfully expect from their Atlanta electrician, such as professional, on-time service; thorough, quality work; and a total satisfaction guarantee. Fortunately, you can get all of that and more from Anything Electric, Atlanta's trusted name for, well, anything electric!
Based out of Holly Springs, Georgia, Anything Electric has been serving the North Metro Atlanta area since 1996, assisting customers from all over Fulton, Cobb, Cherokee, Pickens, and Bartow counties. Owner Tim Hughes and his staff of knowledgeable, licensed Atlanta electricians have more than 30 years of combined experience in the field, meaning they're willing and able to tackle even the most complex rewiring, installation, maintenance, and electrical design jobs.
State certified and dedicated to their customers, Anything Electric offers numerous unique services, including free electrical safety inspections, senior citizen discounts, flat rate pricing, and state-of-the-art solutions for everything from basement wiring to computers, home theaters, outdoor landscape lighting, home generators, outlets, breakers, and much more!
Most importantly, anyone interested in electrical services in Atlanta can rest easy knowing they're in the hands of well trained electrical professionals who always put safety first.
So, to get your complimentary safety inspection, and to meet with a representative from one of the top electrical contractors in Atlanta, pick up the phone and call today. Anything electrical needs you may have can be handled right here at Anything Electric of Holly Springs, GA!
Experience
In operation since 1996, Anything Electric's experienced staff members have more than 30 years combined experience in almost every aspect of electrical work.
Expertise
All sorts of residential and commercial electrical work.
Unique Services
Installing new outlets, circuits
Breakers and fuses
Code correction
Wiring for basements
Service panel upgrades
Outdoor lighting: security, landscape, deck, and hot tub
Lighting design, maintenance, and surge protection
First rate troubleshooting
Licenses
Yes, We Have Licenses
Certifications
Yes, certified by the state of Georgia.
Liability Insurance
Yes, We Have Liability Insurance
Memberships:
Better Business Bureau
Testimonials:
"Not only did they give me the best price, but they performed the work right away. I was blown away by their professionalism!"

"They showed up before the scheduled time and completed the job quickly and efficiently. I would definitely recommend them to a friend."

"Tim (the owner) is a nice guy. It is refreshing to find someone who really cares about the customer and is willing to go the extra mile. I would highly recommend this company!"