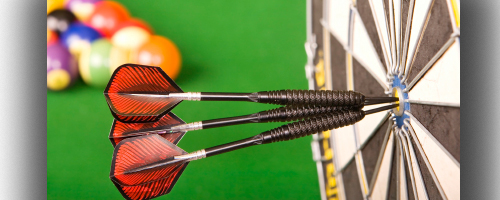 Building a Game Room
Building a game room is a fun and easy way to add interest and appeal to your existing home. Adding a new dimension to family fun and allowing for safe, in-home recreation twenty-four hours, seven days a week, there's nothing better! Game rooms add great value to homes and give friends and family a perfect place to unwind.
When building a game room there are quite a few things to consider; the first of which being, where to put it? Finished basements and well-insulated garages are both excellent game room locations. If your basement is unfinished, poorly finished or if you live in a cold weather climate and your garage is poorly insulated, a home contractor can be very useful. An experienced home remodeling contractor can assist in finishing a basement, insulating a garage or even adding a new room addition for a game room. They can also assist you in the overall design of the room and installation of key components.
In designing your game room, keep in mind how much space you have. If you only have a small space to work with, many multi-use game tables are available. One option is to purchase a smaller pool table; this will make your space appear larger. Pinball machines, juke boxes and a dart board are of course necessities if you want to have a great traditional game room. Juke boxes and pinball machines add to the ambiance, even if your preference is to have a surround sound stereo system and an Xbox 360 hooked up to a wall mounted, flat screen plasma TV. It's just nice to have the vintage classics, too, to really create a great game room atmosphere.
When painting walls, it's recommended you paint the top third of the wall a dark color and the bottom two-thirds a lighter color, to make your space appear expansive while giving it an energetic feel. Choosing paint colors can be tricky, but a popular option is to start with colors representing your favorite sports team, or you may just select two well-coordinated favorites.
Flooring is an essential component to any well-designed game room. Classic game room flooring is black and white checkered. It's simple but spunky and can be done in a wide variety of mediums. If you're a traditionalist, you will want to use large tiles and place them in an alternating pattern. If you're not overly concerned with the authenticity of the look, another option is a large sheet of checkered laminate flooring over a cement floor. Watch out for water if you're doing this in a basement or garage. A very modern, even kid friendly take for game room flooring is carpet squares. Carpet squares provide the traditional warmth, comfort and sound insulation as carpet, but in a flexible and fun tile format. Carpet squares may be a little trickier to install but your contractor can offer guidance on this as well.
A beautifully designed bar is often the centerpiece to any game room, whether it's traditional or modern in style. Although commercially designed bars are widely available at most furniture stores and even in some department stores; those who take their game rooms seriously have their bars designed specifically to their tastes, within the guidelines of the unique character of their game room. Contractors are tremendously beneficial in building customized bars; whether it's a ledge for your drinks encompassing the entirety of your room, a specially imported wood or a classy ceiling wine glass rack, they can help you build just about anything.
If you're thinking of building a game room, contact us today to arrange a project assessment with a top home contractor in your area.
save on del.icio.us
Share on Facebook