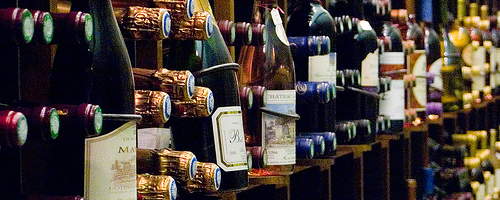 Building a Home Wine Cellar
Wine drinking and wine tasting has become a hobby and a culture unto itself these days. As the number of wine producers and wine bars in the U.S. has increased, so has the number of wine drinkers and wine enthusiasts. No wonder it's considered an incredible luxury and a symbol of status today to have your very own home wine cellar!
Whether you are starting a collection of vintage labels, you enjoy hosting wine and cheese parties, or you simply want a better place to store that expensive bottle you were saving for a special occasion, a wine cellar can be a useful and enjoyable home remodeling addition.
Where Should I Build My Home Wine Cellar?
Once you've decided to build a home wine cellar, it's time to get started planning the remodeling process and deciding how you want to use your wine cellar. A home or basement remodeling contractor can help you narrow down the project options, and inform your decisions concerning the home wine cellar's location and features.
Generally, home wine cellars should be built in areas that are dark, well-ventilated, slightly humid, and climate-controlled. Theoretically, you can build a home wine cellar in any room in the house, but there are specific areas that promise better wine storage, and will require less maintenance over time.
The most appropriate location for your home wine cellar will be the basement, the garage, or a spacious, unused closet. The attic is another possibility, provided it is well-protected from direct sunlight, and it doesn't get too heated in the summer months. For most homeowners, the basement is the prime wine cellar location.
Home Wine Cellar Construction and Design
The details of your wine cellar remodeling project will differ depending on which room you are building it in, the size of your wine cellar, and what your personal wine storage needs are. With the help of a professional basement remodeling contractor and/or a custom design specialist, you can properly build the wine cellar of your wino dreams!
Before any construction takes place, ask yourself these questions to assist you in the design and planning phase:
How large should your wine cellar be? Do you plan on storing 100 bottles or 10 bottles of wine at a time?


Is your wine cellar going to take up all of your basement? Or do you plan on sectioning off part of the room for wine storage and part for entertaining?


Is your home wine cellar for show, as well as for storage? Is aesthetic appearance very important to you, or are functionality and convenience your main priorities?


What is your home wine cellar remodeling budget? How much can you afford to spend on the project?
Once you've settled on your home wine cellar's designated location, function and layout design, you can begin the construction process. If your home wine cellar is going to be the size of your entire basement, the space will need proper insulation and detailing to convert it into a refrigeration unit.
The room will require vapor sealing to keep moisture levels consistent and odors out, and it will need specific lighting installations that won't overheat the wine. Other requirements will be installing a climate-safe door, perhaps a special non-absorbent type of flooring, and most importantly, a proper cooling unit to keep your wines constantly stored at temperatures between 50 and 59 degrees.
Home Wine Cellar Accessories
Now that your home wine cellar is outfitted with all the necessary structural features, you can pick out the final design details and accessories to complete your wine cellar project. If you wanted a wine cellar for the sole purpose of storing a couple bottles from time to time, or for the enjoyment of just you and your partner, you may not want or need any extra frills or details past the cooling unit installation.
On the other hand, if your basement wine cellar is adjacent to your personal home theater, den or rec room, and you will be having company in and around your new wine cellar, you may want to step up the cellar's appearance with the latest wine racks, cabinets, and even furniture.
A qualified remodeling contractor can work with a wine cellar specialist, or possibly with an interior designer, to make the most of your home wine cellar space and to help you select the necessary accessories.
WINE RACKS
One of the most important accessories you will have in your home wine cellar is the wine racking system. Today's wine racks come in a variety of materials, designs and structures. There are even expandable wine racks, so new wine collectors can accommodate a growing stash of bottles.
Your wine racks may suspend from the ceiling, be free-standing, or be mounted on the basement walls. Wine racks are usually made of wood or metal, and can even be custom built and/or painted to match the homeowner's décor.
Wood Wine Racks: wooden racks are probably the most common for oenophiles and wine enthusiasts. On average, they are less expensive, they're sturdy, and they're poor conductors of heat, which can ruin wine. Wood wine racks are available in cedar, pine, fir, spruce and redwood, among other varieties.


Metal Wine Racks: metal racks are usually made of stainless steel or wrought iron, and they can be shaped into a variety of artistic designs. Some people prefer metal wine racks because they are less susceptible to wear and corrosion over time, they're very strong, and they have a more modern appearance.
No matter what type of wine racking system you choose, make sure it is installed properly to minimize accidents, and that the bottles are stacked on their sides so that your wine can breathe better.
WINE CABINETS
Another possibility for your attic, garage or basement wine cellar is a portable wine cabinet. This wine storage method is ideal for creating a smaller wine cellar space, or for when you're trying to adjoin a wine cellar to your basement, dining room, pantry or den.
A small, refrigerated wine cabinet can also be used for pure convenience—if you're hosting a dinner party and you have pre-selected the wine for it, you can retrieve the bottles ahead of time from your basement wine cellar and store them in the wine cabinet. That way, your wine will be chilling in a cabinet nearby until you need it, letting you focus exclusively on entertaining your guests.
Wine cabinets can be either refrigerated, or unrefrigerated, and can be custom-built to match your furniture. You can choose from mini wine cabinets, designed to hold just a couple bottles for on-hand use, countertop wine cabinets, or larger standing wine cabinets. Many of today's wine cabinets have digital temperature controls, and some even have partitions for storing wine glasses, corkscrews etc. Wine cabinets are also constructed in virtually every material out there, so the possibilities are endless.
Choosing the right wine cabinet setup will depend on your wine cellar space, how much wine you need to store, and on your personal taste and preferences.
Finishing Touches
The last touches for building your ideal home wine cellar can include decorations such as vintage wine posters, a mini bar setup with old-fashioned bar stools, and tasting glasses! This is where you can really let your personality and style show through.
If you will be entertaining in or near your basement wine cellar, maybe a classy bar table and seating area with some interesting wine books would add a posh vibe. Last but not least, you will want to organize and stock your wine bottle collection. The way you do this is up to you. Some wine lovers like to organize their wines by grape variety, others by the region, etc.
With the help of a professional home contractor in your area, and possibly a wine cellar designer, you can now have the perfect place to store your favorite vino and show off your personal vintage bottle collection, in your new, stylish home wine cellar! Your basement never had it so good.
save on del.icio.us
Share on Facebook