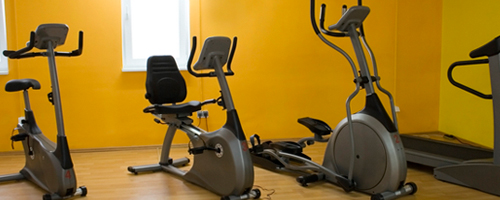 Building a Home Gym
As the years roll by and the metabolism slows down, updating our fitness routine becomes more important for all adults who want to maintain good health and, of course, fit into their favorite jeans. But these declining metabolic rates are closely tied, not so much to our diet, but more to the fact that we begin losing a half pound to a pound of muscle each year, even with regular workouts. That means, in order to keep the figure and the build we've got now, we need to devote even more time to exercising at the gym each year!
For most people, the idea of living at the gym, even for the sake of good health, doesn't sound very appealing. Fortunately, home gyms can serve as a great solution to this problem; don't start living at the gym, bring the gym to where you live!
The Benefits of a Home Gym
While home gyms can be costly, and require a decent amount of interior space, they're a sensible luxury more and more people are finding worth the expense.
It's true, additional hours logged at your neighborhood gym won't add to your monthly membership bill, but in our already jam-packed schedules, that extra time is valuable, even if it's not costing us more. It's hard enough squeezing in time outside of work to spend with family and friends, without also factoring in longer, more frequent trips to the gym.
Public gyms can also be very inconvenient, and often involve fighting for a spot on the best machines, working your schedule around the gym's hours, and agonizing about glaring pit stains or excess bulge in front of Barbie and Ken Doll look-alikes.
With all those complications, who wouldn't rather sweat it out in the privacy of their own home? Personal home gyms allow us to work out at our own convenience, to spend more time closer to the spouse, significant other, kids, pets, roommates, etc. and to exercise confidently and freely in whatever embarrassing attire we choose.
Creating Your Home Gym
If you decide to create a personal home gym to save your waistline, and to free up more social time, you'll first want to consider the space you're converting into a gym. Obviously, basements make ideal areas for home gyms because they're already private, enclosed spaces.
Many home contractors specializing in basement remodeling and home gym design could help you properly assess the space and create an estimate for the redesign.
Because there are many factors to weigh when creating your home gym, such as your personal workout needs and preferences, here is a checklist of considerations that can help guide the process:
What are your personal workout goals? You'll want to select gym equipment that's appropriate for these goals.


What are the dimensions of your gym space? Certain exercise equipment requires specific amounts of square footage and even a specific ceiling height.


Who will be using your home gym? The equipment, layout, and safety precautions will vary depending on the number of gym users and their individual needs.


What is the best home gym design for you? Non-slip flooring, recessed lighting fixtures, floor-to-ceiling mirrors, central air? Personal preferences and adequate safety measures will play a large part here.


By considering these variables, and discussing them with a home remodeling contractor in your area, you can successfully create the right gym environment for you, right in your own home!
save on del.icio.us
Share on Facebook