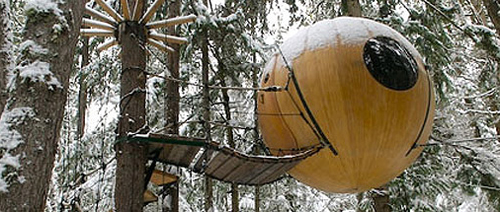 Building a Sphere House
At first, the thought of living in a spherical pod probably doesn't sound so great. However, many architects and modern design gurus consider new sphere houses to be versatile, eco-friendly, and convenient for certain homeowners!
But do sphere houses have enough living space? Are they durable and cost-efficient? Can a sphere house be outfitted with all the standard amenities? How do you build a sphere house? Read on to:
Obtain more information about sphere houses
Compare the design and features of two innovative sphere house models
Get sphere house cost averages
Gain a better idea of whether or not a sphere house may be right for you
What is a Sphere House?
Just like it sounds, a sphere house is constructed in the shape of a sphere. Since a true sphere has no flat edges, sphere houses must be suspended or anchored to secure them in place. The construction of sphere buildings is not necessarily new. But in the past, sphere pods were designed for private and commercial projects, as opposed to large-scale residential use. Now, groundbreaking architects like Marcin Panpuch and Tom Chudleigh are paving the way for sphere homes to enter the mainstream housing industry in the near future!
Sphere Home if by Land
Canadian architect, Tom Chudleigh is the creator and builder of the Free Spirit Sphere, an incredible sphere house design that is, in essence, a fully relocatable, modern-day tree house! Chudleigh describes his sphere homes as a "marriage of tree house and sailboat technology," claiming they provide a peaceful retreat and a sustainable living environment wrapped into one.
Free Spirit Sphere houses are currently constructed out of wood or fiberglass, and can be fully outfitted with electricity, plumbing and heating. These insulated wood sphere houses have an average interior diameter of 10 feet, and are custom built by Chudleigh using light, flexible wood species like spruce and cedar. Wood sphere houses are typically suspended from trees in a well-forested area; the suspension ropes are connected to 3 separate trees to evenly distribute the sphere's 500 lb. weight.
The interior of Chudleigh's wood sphere houses includes a double bed, a desk/table area, built-in shelves and cupboards, four windows and a skylight, and a circular shelf around the top of the sphere for extra storage. Since there is wiring set up, some sphere home inhabitants can even install a small fridge, microwave and other necessities as they see fit.
Sphere Home if by Sea
A more modern, hi-tech take on the sphere home design is Marcin Panpuch's floating sphere house. While Chudleigh's new age tree house sphere makes for an idyllic rural retreat, Panpuch's floating sphere house has increased functionality to qualify it as a more permanent residence. The floating sphere house is a relocatable, water-borne sphere that consists of three levels and is completely energy self-sufficient!
Created in London with the idea of expanding limited real estate space to the rivers, Panpuch's floating sphere house can be relocated as often as needed, and is completely mobile. However, if it's simply the design that homeowners require and not the mobility, the Panpuch sphere house can be fixed to a tower set-up as well (ideally with other sphere homes).
Working under the knowledge that "a sphere has 25% less surface area than a cube of the same volume," Panpuch's sphere house's reduced perimeter size will produce reduced heat loss over a standard home. The floating sphere house also has an average diameter of 50 feet, making it larger than some other sphere home types.
Floating Sphere Amenities
The sphere home's three floors are each centered around a core that follows the vertical length of the sphere. This core contains the sphere's pipes and ducts, as well as the sphere house's bathroom, kitchen and stairs.
The upper floor of Panpuch's floating sphere includes two entrance/exit points, and optional extra living space. The sphere house's middle floor is where the bedrooms and workspaces are, and the lower sphere level houses the heating system, water tanks, storage and the sphere house IT controls.
solar energy with its installed photo voltaic (PV) cells. Additionally, the floating sphere house uses natural ventilation and a "stack effect" to distribute air evenly to each separate floor through the sphere's core. Waste is stored within the sphere until it can be disposed of at a public waste facility.
Sphere House Costs
According to realestateabc.com, the U.S. average median price for a new home in December of 2009, across all regions, ranged from $135,300-$240,700—and some price estimates have increased since then! Compared to the average asking price of a standard home, the cost of a sphere house isn't outrageous. Rather, sphere home costs can be cheaper in some cases!
Reportedly, Marcin Panpuch's floating sphere houses cost between $45,000-$65,000. By comparison, Tom Chudleigh's tree house spheres can be slightly more expensive, but there is more customized work and services involved.
Chudleigh's wood sphere homes cost about $150,000, and his fiberglass sphere homes cost around $50,000. Chudleigh also sells sphere home frames, fiberglass sphere home shells, and other sphere home accessories for DIY sphere home builders. If you prefer having a professional perform building and installation tasks, Chudleigh's other sphere home services include site assessment, sphere home installation, custom sphere building, sphere relocation and sphere removal!
Building a Custom Home
Whether you are interested in building a sphere home, a straw house, a net zero energy home, or a custom sunroom addition, you will likely need to enlist the help of a professional home contractor in your area.
A custom home builder with experience in custom home design and execution should be able to help you fulfill your goals for building a new home! By making an appointment with a licensed home contractor today, you will be on your way to creating a personalized blueprint for your dream home!
Contact us today to schedule your appointment with a licensed home contractor and obtain up to 3 free estimates for your future home construction project!
save on del.icio.us
Share on Facebook