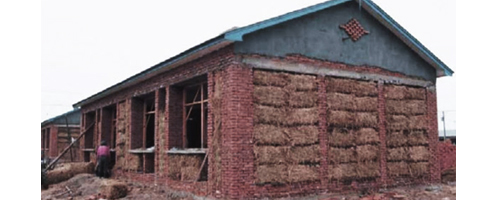 Straw Houses Lead New Green Building Trend
The popularity of natural building just continues to grow, it seems. Not only are today's homeowners purchasing green homes at an increasingly higher rate, existing homes are being outfitted with new fixtures, insulation, heating and cooling systems, etc. as part of a green home remodeling effort.
But advanced home energy systems and green appliances aren't the only things changing in this environmental trend; green home construction is a steadily growing industry that incorporates brand new changes in terms of building materials, home designs and the construction process itself. Dome houses and solar houses have been around for some time, and both of these abodes are hailed by many environmentalists for their green benefits. But what about one of the latest creations in natural building, straw houses?
What is a Straw House?
Much like it sounds, a straw house uses stacked, coated bales of straw to insulate the walls and the frame of a home or business. Pennsylvania architect, Scott Kelly, first used straw bale construction in 2007 for a commercial project. Since then, it has grown in scope and popularity as an economical, environmentally friendly method of sustainable building.
Straw bales are mainly used in green construction projects for insulation. To prevent moisture penetration and rotting, the bales are coated with stucco or plaster before being installed into the home's framework.
Straw bale construction can be labeled as either load-bearing, where the bales add structural support, or non-load bearing, where they strictly provide insulation. Straw bales are recognized as a cheap but effective type of building insulation, not to mention they are convenient and often locally sustainable.
Are Straw Houses Safe? Are They Sturdy?
When you hear the words "straw" and "house" together, it might conjure up the image of the Big Bad Wolf huffing and puffing, or perhaps the ghastly consequences of fire damage. However, straw bale-aficionado Scott Kelly and his team put their bales to a baleful fire test, in order to prove the material's safety. The results of fire testing the plaster-coated bales showed that it took more than two hours for fire to pass from one side of a bale to the other; a substantial amount of time to either extinguish a fire, or relocate to a safe place.
Mr. Kelly's straw bale structure is even expected to earn a gold or platinum "LEEDS" certification. LEED, or Leadership in Energy and Environmental Design, is one of the most prestigious green building certifications; it's awarded by the U.S. Green Building Council to homes and structures that display superior efficiency concerning use of natural resources, energy, labor, materials etc.
As for sturdy, there is still some question about the reliability of load-bearing straw bale construction. While many load-bearing straw structures are considered sound, especially those executed by a custom home builder with architectural experience, straw has a tendency to settle with time, or when subjected to pressure from heavy framework or roofing.
On the other hand, non-load bearing straw construction is reportedly quite reliable and much simpler to accomplish. For these reasons, and because straw bale construction is still relatively new, many local building authorities will only approve non-load bearing projects.
If you're looking into green building options for your next home, and want to learn more about custom contracting and remodeling services, it's very helpful to meet with professional home contractors in your area. Not only can they get you started with an estimate if you have a plan in mind, you can learn more about their individual construction services, form a better idea of total costs, and work together to create the most efficient, most cost-effective construction plan for your new green home!
save on del.icio.us
Share on Facebook