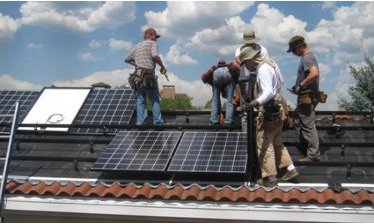 Solar Panel Installation & Info
Green building practices continue to boom in the home construction and home remodeling fields. It's not difficult to understand this trend, thanks to several important factors: the increasing influence of environmental groups, a major societal push to implement green living habits on a daily basis, and the new government-provided green tax credits for homeowners and car buyers. Yes, green seems to be the color of the future. Among green home remodeling projects that are helping homeowners to cut utility costs and do an environmental good deed, solar panel installation is one of the leading projects.
Why Use Solar Energy For Your Home?
The primary benefits of using solar energy to power your home are both environmental and economical. On the one hand, if you are already an avid recycler, use nothing except halogen light bulbs, rely on a bicycle as your main mode of transportation, have a kitchen full of local produce and sustainable foods, and think plastic bags are the devil, then solar panel installation might already be in your home remodeling agenda. If your main concern is cutting exorbitant energy costs for your home year-round, then solar panel installation is also a logical choice.
Some pluses to using solar panels for a home energy source include:
Solar power is a clean, renewable energy source, unlike energy generated with fossil fuels.
Solar energy harnessed through residential solar panels can be used for the majority of your home's energy needs.
Total energy cost savings earned with solar panels will depend on the utility you are substituting solar power for, and where you are located. For instance, solar panel electricity savings will vary based on a state's electric rates, and by the amount of kwh produced for your home with solar energy versus standard electricity. Solar water heating systems can reportedly save homeowners more than half the costs of electric water heaters.
Today's homeowners who purchase and install green appliances and energy-saving features, like solar panels, are entitled to significant cost-saving incentives like federal tax credits.
Solar panel installation increases a home's resale value. According to a publishing by the National Appraiser's Association, a home can increase in value $20 for every $1 achieved in annual energy savings.
Types of Solar Panels
As mentioned above, solar panels can be installed for many uses. Most commonly, solar panels are used to generate electricity, to power a hot water heating system, and to provide indoor heating. Solar panels are also installed to heat swimming pools, to power commercial and outdoor lighting systems, and to operate water and fountain pumps. Many of us have also heard about the novelty invention of solar-powered cars.
Since most homeowners install solar panels for electricity, hot water heating, and indoor heat, those are the three types of solar panels we'll be discussing in greater depth. Read on to learn the main differences between these three types of solar panels, and how each one functions to provide homeowners with important utilities at reduced costs.
How Do Solar Panels Work?
Solar PV Panels: Residential solar panels that are used for electricity are called solar photovoltaic panels or solar PV panels. PV panels are, in essence, solar power cells that trap energy from direct sunlight and convert it into electricity. solar PV cells are commonly made of crystalline silicon, amorphous silicon or gallium arsenide. These materials act as semiconductors, directing light photons from the sun's rays into a direct current that the metallic panels can use to generate electricity. This process is called the Photovoltaic Effect.
To function properly, solar PV panels require a solar panel inverter to change the panels' direct current into alternating currents to power your home's electric appliances and fixtures. Some popular options for solar panel inverters include stand-alone solar panel inverters, synchronous solar panel inverters, and sine wave inverters.
Solar Hot Water Panels: For solar hot water panels, the panel itself uses different materials than the electric panels do. Rather than requiring the silicon technology of solar PV panels, solar hot water panels are sealed, box-like panels that have a dark-colored, absorbant finish on top. Water pipes running through these solar panels are heated as the sun's energy is trapped inside the panels. These heated water pipes circulate sanitized water from the solar panels to an outdoor solar water heater or solar storage tank. The water continues to circulate until its temperature reaches the designated setting of the existing indoor water heater. Once the water is hot enough, it is transferred inside to be used.
Solar Heating Panels: These solar panels, which are used for indoor solar heating, also use a dark coating on the top of the panels to better absorb the sun's heat. The panels themselves have an inlet and an outlet pipe attached to transfer air through the panel boxes. The inlet pipe admits cool air into the solar panel, and once inside, the air is heated by the trapped thermal energy. Hot air leaves the solar panel through the outlet pipe, and is directed to a specific area of the house. Indoor solar heating is most effective when the house is properly insulated, and the windows and doors are sealed to prevent unnecessary heat loss.
Solar Panel Installation
Most homeowners without prior experience in solar panel installation will likely want to leave the job to a professional home contractor. Mistakes made during the installation process can ruin the solar panels' overall effectiveness and total energy production for your home. Someone who is trained in solar panel installation—with an understanding of the variables that can boost or negate panel productivity—will be most qualified to design and install your home's solar panel system.
However, there are some preparatory steps that homeowners can take, or should consider, before enlisting the help of a professional local contractor:
Evaluate the location where you want to install solar panels. Ideally, this will be the roof of your home, your garage, or another standing structure that receives a large amount of direct sunlight. Your solar panels won't be useful if they're installed in a shady spot. For this reason, ideal locations for your solar panels are the roof of your home, garage, or another standing structure on your property. You can even trim or remove extraneous branches and debris that will interfere with direct sunlight. *Additional tip: It is beneficial, when possible, to combine solar panel installation with roof installation or roof repairs. This will simplify the process of "flashing in" passive solar panels, adding panel mounts for solar PV panels, etc.
Understanding the costs, total energy savings, available tax credits, and possible repair or replacement expenses is a vital part of the solar panel installation process. By researching this information before your solar panel installation is underway, you will be more confident in your solar panel knowledge, choices, and ultimately, more appreciative of your future energy savings!
save on del.icio.us
Share on Facebook