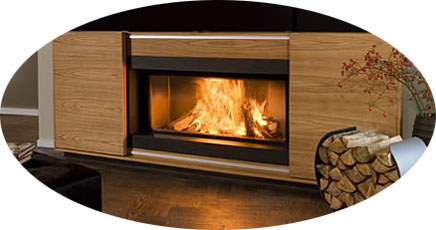 Wood Fireplaces vs Gas Fireplaces: 5 Factors to Consider
There is nothing cozier than a roaring fire in the dead of winter, but choosing the best fireplace for your home can be complicated. Do you want the delightful aroma and crackling sounds of a wood fireplace, or do you prefer the cleanliness and efficiency of gas logs? To determine which type of fireplace fits your needs best, we've got five factors to consider.
Aesthetics
The style of your home may or may not help determine whether a gas or wood fireplace is a better choice for you. A gas fireplace can look quite traditional nestled in a brick hearth, while a wood fireplace takes on a modern element surrounded by sleek stone tile. Gas fireplaces have also come a long way in lending a more realistic appearance of a crackling fire, but in the end, it is still not the same as the dancing flames licking the wood burning fireplace. The bottom line? Aesthetics is a matter of personal preference and you have to go with the fireplace you like the best.
Cost
The cost to run either type of fireplace is relatively small, as long as you live in an area where firewood is abundant and gas is cheap. In some places, wood comes free from bountiful forest property and gas runs as little as 20 cents for an hour of run time on a gas fireplace. However, you might also want to factor in the price of your labor, since it takes time and effort to chop firewood and build a fire. Purchasing your wood already cut will save time but raise the cost. In contrast, there is no wood to collect for a gas fireplace, and the fire begins as soon as you flip the switch.
Cleanliness
A gas fireplace is much cleaner than a wood variety. Wood leaves ashes, soot and debris that must be cleaned out before the next fire can be built. Wood fireplaces require the use of tools to keep the fireplace area clean and safe. On the other hand, gas fireplaces require little or no cleaning, as long as you get them serviced once every year or two. There are no tools cluttering your hearth, and no cords of wood to create more mess.
Safety
Both types of fireplaces are relatively safe when they are used properly. However, a wood fireplace does carry some additional fire risk, particularly if the chimney and hearth are not cleaned regularly. To improve the safety of a wood fireplace, you can have an insert installed. This device also makes a wood-burning fireplace more efficient in heating a larger room. Gas fireplaces also carry a small risk, just because they involve the use of natural gas. However, most modern fireplaces have sufficient safeguards installed to bring that risk factor to almost zero. A gas fireplace should be installed according to local business codes and serviced regularly to maintain a high safety rating.
Environmental Friendliness
Both types of fireplaces provide their own style of environmental friendliness. Wood is a naturally renewable source, making wood fireplaces a good environmental option in terms of the material used. However, wood fires emit gas and smoke that can damage the environment. In fact, some areas prohibit the use of wood-burning fireplaces for just this reason. On the other hand, gas fireplaces do not use an environmentally friendly substance for burning, but they do not release the same harmful particles into the air when they are burned.
Determining which fireplace is right for your home is largely a matter of personal preference. However, keeping these factors in mind will help you choose the fireplace that will best fit your needs, taste and budget.
To learn more about your options, or to get an fireplace installation estimate from a top contractor in your area, contact us today via the phone number or form on this page!
save on del.icio.us
Share on Facebook