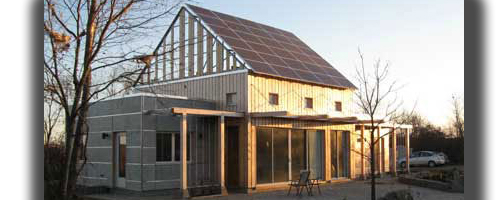 The Future of Green Building
As environmentally-conscious homeowners continue to invest in eco-friendly building materials and practices, residential green building continues to evolve. In a few years, what will our homes look like? Will it seem as if we've been transported into a Jettsons cartoon? Maybe we won't see changes quite that extreme, but these are some of the developments we may begin to see in eco-conscious homes as green building trends continue to grow over the next decade.
1. Modular is the next big thing
No, we're not talking about the old prefabs that come to mind when you think of modular homes. Rather, stylish, economically-friendly prefab homes are popping up everywhere. In mid-2009, Clayton Homes, a subsidiary of billionaire Warren Buffet's Berkshire-Hathaway, launched the i-house, a 723 square-foot model with stylish and modern lines, which incorporates solar panels, tankless water heaters, dual-flush toilets, and bamboo flooring. These "green" prefabricated homes start at only $75,000. Add to that price the money i-homeowners will save on utilities, and these low-environmental impact modules become even more attractive.
2. Green building materials diversify
As the demand for environmentally-friendly building materials with varied aesthetic effects continues to grow, more and more of the materials we use to build our homes will become available in green varieties. High-tech insulation is one of the most innovative areas of green material development. Insulation with phase-change properties, for instance, help stabilize indoor temperatures by changing according to outside temps.
3. Energy renovations
Increasingly, homeowners will remodel their homes to make them more energy efficient. While consumers are still wary of building new homes altogether, as we emerge from a recession, remodeling becomes an increasingly attractive option, particularly for those who truly want to make a dent in their overall energy consumption. For many, the investment in a renovation is worth the savings on energy costs thereafter. Additionally, we may see stricter codes and widespread enforcement on reducing energy consumption mandated by Congress.
4. Smart grid and connected homes
Smart grids deliver electricity using a two-way technology that controls home appliances, saving energy, and reducing costs. Appliances, computers, and other electronics in a connected home would shut down (i.e., would have no electricity coming to them) when not in use. While this system still involves wrinkles that have to be ironed out, many individual appliances are being equipped with technology that will allow them to be turned off or on via email. Such innovations in home power control will undoubtedly continue to evolve in the next decade.
5. Solar power
One of the biggest barriers to solar panel integration into the home is cost. Solar panels are usually quite pricey. However, as the technology continues to develop and advance, we are likely to see solar panels become a more viable option for residences.
So, maybe we will see a few innovations that resemble the Jettsons, but mainly, green home building continues to promote comfortable living while reducing energy use. As research and technology continue to advance, homeowners will likely find that they can still have a stylish, inviting, and comfy home, while helping to preserve the environment at the same time.
To learn more about the green building services already offered by top contractors in your area, contact us today!
save on del.icio.us
Share on Facebook