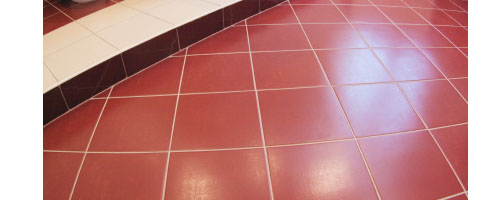 Comparing the Top 5 Bathroom Flooring Options
The different types of bathroom floors are usually the last thing on your mind when considering remodeling your bathroom. Sinks, tub, toilets, towel racks, mirrors, cabinets- the list of items that you need to decide on is long, and you need to co-ordinate them if you want your bathroom to look as a seamless whole. But the floor is what will tie the room together, and if that is off the whole look will be ruined. So forthwith are 5 different bathroom floors, evaluated for price and aesthetic.
MOSAIC
Mosaic is a form of tile that offers a chance for unique and idiosyncratic visions to be realized, on the bathroom floor. While most tile comes in squares, an ideal mosaic comes in irregular shapes and colors, and can be fit with the light-reflecting intricacy of an Ottoman miniaturist. These will make your bathroom feel bright and warm and open, but they do come with a price. Due to the difficulty of installation and the non-prefabricated nature of the materials, a mosaic tile is one of your more expensive bathroom flooring options, but a qualified tile specialist can help you at every step.
RECYCLED
A lot of material can be recycled, but for flooring purposes we're going to stick to a few ones that have more visual flair, such as cork or glass or bamboo. These flooring products are broken down from others, such as furniture. These will give your bathroom an uncommon look and are ideal for conversations starters. The drawback is of course price, as these are more artisanal than mercenary. Another drawback is compatibility with your room and ability to fit with what you were imagining for your bathroom. Green building technicians will be able to walk you through this process.
STONE
Durable, sturdy, and classy, stone bathroom floors give your indoor bathroom a natural, yet still spa-like and decadent, feel. Stone floors combine the non-mass-produced feel of mosaic tile with the natural feeling of recycled materials, and the cost of both. The other drawback is that they are not very easy to clean. But don't worry about them being uncomfortable. Stone floors are smooth and pleasant to the touch. It is a paradox perhaps the most abundant material in the world, stone, is also the most classy, but, as any expert stone mason will tell you, it is a paradox that the wise bathroom-remodeler will embrace.
CERAMIC
Those looking for a cheaper, but still pretty option, generally end up with ceramic tiles. Many mosaic tiles are made out of ceramic (though many are glass), but ceramic tiles tend to be more uniform in shape, and thus less personal but considerably less expensive and easier to install. Ceramic is a study, easy-to-clean surface that looks more expensive than it actually is.
LAMINATE
Of course, a lot of people are not interested in making a personal statement out of their bathroom floor. There is only so much time during a day, and you don't want to have to worry about everything, or spend a lot of time cleaning your floor, as much as it may mean to you. For this, there is laminate. Laminate apes the look and feel of wood but with the benefit of less-expensive material and considerably easier installation.
There is no question that the bathroom is one room you and all your guests will eventually use, and you want it to looks its best. When looking, judge a floor on costs, look, and how well it meshes with the rest of your vision. And for all steps of your bathroom, be sure to contact qualified bathroom remodeling experts.
Mitch Logan
save on del.icio.us
Share on Facebook