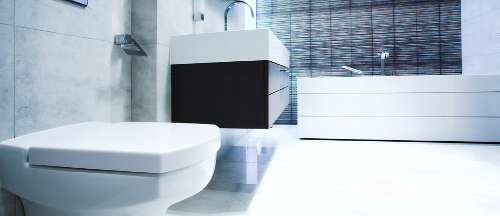 The Bathroom of the Future: New Innovations in Bathroom Remodeling
Bathrooms are not merely a room of function; they are your own personal spa that you can retreat into whenever you like. To that end, innovations in bathroom remodeling include plenty of luxury as well as convenience and practicality, to ensure you can make the most of the private time that you spend there. SignatureContractors has eight of the most popular trends in bathroom remodeling today.
Bringing Tile into the 21st Century
Tile has come a long way in the past decade, and today's bathroom tiling has a host of attractive options. Ceramic tiles create a colorful mosaic on a shower wall, while glass tile adds a shimmer of color to the drabbest bathrooms. Stone tile continues to be a popular choice for those who like a rustic modern look and textured tiles make a nice backdrop for a neutral color scheme. Crisp white subway tile continues to be a hot seller this season, since white goes with just about everything. Pair it up with a bright blast of color for a bathroom that is decidedly retro-modern.
Baths that Do it All
Automation is the buzzword for a relaxing soak in your bathtub. Today's tubs use preset memory controls for everything from the temperature of your water to the depth of your soak. Some even feature an LCD control panel with audio response, to make preparing the perfect bath even easier. Special touches like hand sprayers and copper interiors add to the luxurious bathing experience.
Flooring Gets a Facelift
Heated floors continue to be a hot trend in bathrooms this year, as they provide comfort to bare feet and a warmer room for bathing. This flooring is becoming much more affordable, thanks to a mesh underlay that can be placed under tiles before they are set. The netting comes with an attached thermostat, so you can make your floor just as toasty as you like. A newer trend is to add teak flooring to your shower, for a look and feel that says, "Spaaaah," every time you set foot inside.
Hang it on the Wall
Particularly practical for tight spaces, new bathrooms remodels are hanging everything on the wall from the faucet to the toilet. This trend also makes for a modern style that is clean and streamlined. The plumbing is also easily managed inside the wall, so there is no concern over twisting pipes taking up space in the cabinet below.
Let there be Light
With people spending more time in their personal spas today, the need for more light in these smaller rooms is also on the rise. Many are finding that additional windows, or larger window frames are fitting the bill. However, others are also placing skylights in their bathrooms so they can enjoy more natural light without compromising privacy.
High-Tech Clean
Tubs and showers are getting a high-tech makeover, with automated settings, additional spray heads and other gadgetry. Check out the latest in steam generators and rain domes to bring your bathing experience to the next level. Or use chroma-therapy color wash for a truly luxurious spa treatment right at home. Finish off with heated towel rods that bathe you in warmth the second you leave the water.
Frame-Free Showers
To make these smaller rooms look larger, frame-free showers are quickly gaining popularity. This design works with just about any bathroom décor and quickly opens up a cramped space. The open design also gives a spa-like touch to any bathroom, especially when it is paired with some large fluffy bath towels hung on a rod outside.
Electronics and Bubbles
Bubble baths have been brought into the world of entertainment, with the addition of electronics into the bathroom. Flat-screen televisions are becoming a common addition to the bathroom scene, as are stereos and small coolers. Many of these amenities are built right in, so they can add comfort to the bathing experience without detracting from the overall style of the room.
Bathrooms are entering a whole new dimension of luxury and comfort today, as more people are forgoing the spa experience to enjoy their pampering from the comfort of home. With plenty of beautiful bathroom innovations to choose from, you can add value and style to your home without breaking the bank to complete your home renovation. To get started on your 21st century bathroom remodeling project, you can arrange a free, on-site consultation with a local bathroom contractor. Contact us today to schedule yours!
save on del.icio.us
Share on Facebook