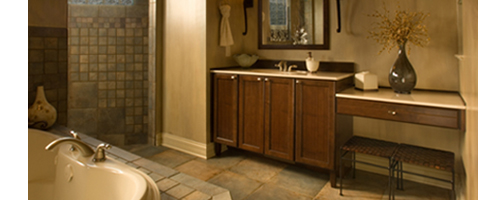 Bathroom Remodeling Costs
Bathroom remodeling is one of the most popular home remodeling projects performed today. Whether homeowners are looking to expand or update an existing bathroom to accommodate their family's needs, or are looking to resell their home, bathroom remodeling is a great way to increase your home's overall market value. But what kind of a budget should you set aside for your bathroom remodeling project? What are the cost averages for a bathroom remodel? What individual contracting services are factored into that cost?
According to Remodeling Magazine's 2008-09 Cost vs. Value Report, the national average cost for a midrange bathroom remodel is $15,899. The national average cost for an upscale bathroom remodel is $51,455. There are many factors that will affect the cost of your bathroom remodel. Generally, the biggest cost factors will be the:
Size of your bathroom
Scale of the remodel project
Geographic project region
Choice of materials
Contractor's final project quote
Breaking Down Bathroom Remodeling Costs
Size: The size, or square footage, of your bathroom affects the total amount of labor and materials required to finish the project; so, in turn, it affects your total bathroom remodeling cost. The square footage of your bathroom will especially make a cost difference if your project will include new tile flooring and tile shower stalls, repainting and/or new wallpaper.
Scale: The overall scale of your bathroom remodeling project is determined by the amount of individual tasks or smaller projects that will make up your completed bathroom remodel. For instance, are you simply installing a new toilet and updating the lighting fixtures? Or are you installing a customized whirlpool tub with an adjacent recessed shower stall, in addition to building a new granite commode with dual sinks? Are you replacing plumbing fixtures, or completely relocating plumbing fixtures and overhauling the entire bathroom design scheme? Every project decision factors into the total bathroom remodeling cost. Many home contractors will refer to minimal projects as "small" or "midrange," and refer to more complex bathroom jobs as "upscale" projects.
Project Region: The cost averages for bathroom remodeling projects differ quite a bit from region to region throughout the U.S. Even inside certain regions, project quotes can differ from state to state and by metropolitan area. Because there's so much room for discrepancy here, it's recommended to get multiple project estimates from bathroom remodelers in your area. Just to get a general sense of how much cost varies by region, the 2008-09 Cost vs. Value Report identified cost averages for specific projects in multiple regions.
For example, midrange bathroom remodeling projects in Texas, Oklahoma, Arkansas and Louisiana reportedly had the lowest total cost, with an average project cost of $13,984. By comparison, midrange bathroom remodeling projects in California, Washington and other Pacific Coast states had the highest average total cost, estimated at $18,452. Other very affordable regions for bathroom remodeling include Georgia, Alabama, Tennessee and Virginia. Bathroom remodeling in Illinois, Wisconsin, Indiana, Minnesota, Missouri and North Dakota ranked in the middle to upper cost brackets, with midrange projects averaging between $15,753 and $16,568. After the Pacific states, the highest average regional cost of bathroom remodeling was in New York, New Jersey, and other Mid-Atlantic and New England states.
Materials: While the scale and region of the project has a great affect on total bathroom remodeling cost, so does the choice of materials and fixtures. There are so many options to choose from when it comes to the style, fixtures and design elements of your bathroom remodel. Added complexity and use of luxury features will naturally increase the cost of your bathroom remodel. For instance, installing ceramic tile flooring in your bathroom will cost less than installing electric heated bathroom tiles. Likewise, installing oil-rubbed bronze sink basins will be more costly than choosing glass sink basins. By working with an experienced bathroom contractor, and maybe a bathroom interior designer as well, you can get expert advice and suggestions on the latest materials and bathroom trends—not to mention you can find out what materials will best meet your cost standards as well as your taste standards!
Project Quote: It's recommended that you get bathroom remodeling project estimates from a few different home contractors in your area. That way, you will have a realistic idea of what you can expect to spend on your bathroom remodeling project. This will also give homeowners an estimate to work from in the planning process, which they can reference before adding or discarding elements of their bathroom project in order to fit their budget goals. Once you are decided on all aspects of your bathroom remodel, your bathroom contractor can give you a final project quote.
What My Bathroom Remodel Will Cost
Now that you have a better understanding of the general factors that will affect your bathroom remodeling project costs, you can get started creating a personalized bathroom remodeling budget, and begin exploring your local cost and contracting options.
By contacting our contracting representatives today, you can be connected with three home contractors in your area who will provide you with free project estimates to get you started!
Other Bathroom Remodeling Resources
save on del.icio.us
Share on Facebook