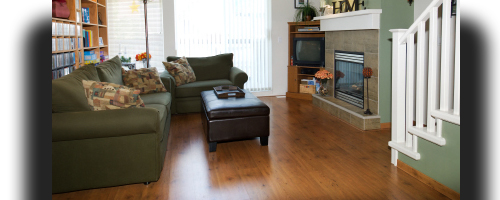 Flooring Costs
The cost of flooring can be a sizable factor when evaluating a total home remodeling budget. Always a crucial element to any room remodel or room addition, the right flooring not only ties a room together and adds to the overall room design scheme, it holds functional importance as well in terms of safety and cleanliness. To determine the type of flooring material and style that's best for you and your family, you must first compare the varying costs and value of each type to make an informed decision.
Factors Affecting Flooring Costs
Before we delve into the types of flooring materials and compare them by individual cost, it's important to know that there are three main components in a flooring project that contribute to flooring costs: the total square footage of the floor, the type of flooring material used, and the cost of flooring installation.
The total square footage of a floor area greatly affects the total flooring cost because most floor installation projects are priced by square foot. To put it simply, the bigger the floor, the bigger the flooring cost.
The type of flooring material used in a flooring project will affect the total cost due to the different pricing value given to different materials. Usually, the price of a flooring material is set by the product's rarity, the difficulty associated with the material's handling, crafting and installation, and the local demand for it.
The cost of installation is set by your local flooring contractor, and will likely vary depending on the contractor's experience with and access to the flooring material chosen. Flooring installation costs will also rise considerably for custom flooring work.
Flooring Types
While the amount of possible flooring styles is great, the types of flooring materials most commonly used today is slightly more manageable. Once you've chosen the flooring material you'd like to incorporate into your kitchen remodeling project, bathroom remodeling project, bedroom remodeling project or basement remodeling project, you can select the flooring patterns and colors that best match your personal taste.
The most popular choices in types of flooring include:
Vinyl flooring
Natural Hardwood flooring
Ceramic Tile flooring
Laminate flooring
Linoleum flooring
Flooring Costs by Material
As mentioned above, the type of materials used for a flooring project will have a significant effect on the total cost. The price of each material may vary by project region, but the general flooring cost averages listed below will give homeowners a sense of how expensive these materials can be. A general cost assessment for hardwood, vinyl and linoleum flooring costs is that $1-$4 per square foot constitutes a low cost for flooring, $5-$8 per square foot comprises an average-costing floor, and $9-$12+ per square foot constitutes a high flooring cost. Price averages tend to be higher when estimating tile flooring costs. Read on for more exact flooring cost averages.
The cost of vinyl flooring can be as low as $1 per square foot, and as high as $6 per square foot. The installation method used for your vinyl flooring will also affect the total cost. For instance, vinyl flooring can be installed in tiles, sheets, rolls or strips. These different installation techniques will alter the labor requirements for the project and will affect the cost accordingly. Vinyl flooring costs can also change depending on whether homeowners choose the inlaid or rotogravure vinyl floor style.
The cost of hardwood flooring changes with the type of wood used, and with the construction method employed. Natural hardwood flooring is also known to be one of the most expensive flooring materials used today. Bamboo, one of the cheaper wood varieties, can cost around $8 per square foot. By comparison, the cost of exotic wood flooring from South America or Australia, such as cypress, rosewood or Honduran mahogany, can cost up to $15 per square foot.
Compared to natural hardwood flooring, engineered or laminate wood flooring can cost even more, due to its more complicated construction process. Laminate wood flooring uses a top layer of natural hardwood, and overlapping base layers of plastic laminate material. This combination often means less wood distortion over time, and increased durability.
Popular construction methods for hardwood flooring, which will also affect the total cost, include traditional plank wood flooring, strip wood flooring, and parquet wood flooring. Of these three, the parquet style of hardwood flooring will cost the most, since different woods must be specially cut and inlaid in geometric patterns as they're installed.
The cost of ceramic tile flooring can range on the expensive side, or in the average cost bracket depending on the materials, construction and installation methods chosen. For instance, glazed ceramic tiles can cost $1-$20 per square foot. Unglazed ceramic tiles tend to be less expensive than the glazed type, since they don't require painting or custom glazing. Natural stone tile flooring like marble, granite or slate can cost nearly as much per square foot as glazed ceramic tile does; possibly more if custom designs are requested. The most expensive tile flooring costs can be found with mosaic tile flooring, because of the detailed level of work involved, and the use of several materials such as stone, glass and metal.
The cost of laminate flooring depends on the type of laminate style selected, and the specific construction of the laminate floor. Laminate flooring is constructed of several layers of synthetic paper and sometimes plastic materials, and can be designed to imitate the look of natural wood, stone or tile. Standard laminate flooring costs range from $1-$6 per square foot, and generally don't clear the $8 mark.
The cost of linoleum flooring also typically falls in the $1-$6 per square foot range. For its affordability, and for its reliability (at one time was dubbed the "40-year floor"), linoleum flooring is considered a wise investment by many homeowners. For these reasons, linoleum flooring is most popular for remodeling kitchens. While the style and look of linoleum may not be as trendy as other more modern or natural materials, it's certainly becoming more diverse in its color options and styles recently.
Additional Flooring Cost Factors to Know
The flooring cost averages listed above apply only to the floor tiles themselves. Remember that many other factors will contribute to your total flooring project estimate, such as:
Flooring installation costs and fees: These will vary by flooring contractor, and should be covered before the beginning of the project
Atypical room dimensions or flooring specifications: Special flooring requirements for projects will likely up the total cost
Flooring trim and accessories: Installation of floor trim and floor moldings will also tack on extra cost, especially if they are custom-made
To learn more about flooring costs in your area, or to receive up to 3 free estimates from a flooring home contractor near you, contact our SignatureContractors representatives today! They can answer more of your questions, and help match you with a licensed home contractor who specializes in your individual project needs.
save on del.icio.us
Share on Facebook