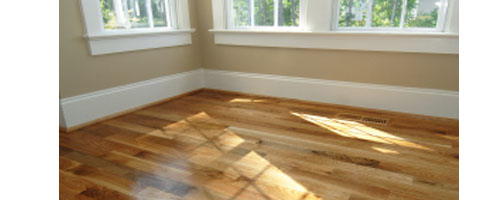 Solid Hardwood vs. Engineered Hardwood Flooring
Wood remains one of the top choices in flooring materials that are used today, but within the wood category there are scores of possibilities. One of the most important distinctions to make when selecting hardwood flooring is whether you want natural, solid hardwood flooring, or engineered hardwood flooring. Both options have their pros and cons.
Solid Hardwood Flooring
It's easy to see why solid hardwood floors are such a popular choice, with their classy gleam and natural-looking appeal. Additionally, wood lasts a long time, and it isn't incredibly difficult to maintain with the proper protective measures. Hardwood flooring can be installed in longstrip, planks or parquet-style patterns, and it is typically available in different lengths, widths and thicknesses. There are also many ways you can finish your hardwood floor to eliminate the old inconvenience of waxing and buffing. Common finishes include aluminum oxide, polyurethane, UV-cured urethane, acrylic-urethane and ceramic finish.
The biggest problem homeowners have with solid wood floors is the wood's tendency to react to moisture and temperature changes. Depending on the existing moisture level in the air, solid hardwood plank flooring can contract or distort, creating gaps or buckling in the wood. Fortunately, a knowledgeable flooring contractor or home remodeler should be able to prevent wood distortion by creating the appropriate expansion gap during installation, and by ensuring wood is properly treated and prepared.
Engineered Hardwood Flooring
Engineered hardwood flooring, also known as laminated wood flooring, is a combination of real wood and laminate flooring materials. The result is a moisture-resistant wood hybrid that can have all the aesthetic benefits of solid hardwood flooring, but almost none of the weaknesses. Engineered hardwood flooring is always pre-finished at the manufacturer, making installation that much easier, whereas solid hardwood flooring only comes pre-finished on occasion.
Because of solid wood's tendency to distort in the presence of moisture, it's typically not usable in certain rooms or areas like the basement. On the other hand, engineered hardwood flooring can be used just about anywhere because it's more resistant to changes from the elements. The top layer of real wood in engineered wood floors can come in one of three ways:
Sawn Face: Sawn face engineered flooring uses saw mill lumber that is cut the traditional way, and then sawn to the appropriate or designated thickness. This style of engineered flooring is considered to be the most aesthetically pleasing and the strongest grain-wise, but also the most costly and wasteful.


Sliced: Sliced lumber for engineered flooring involves the raw wood being placed in a conditioning vat and then cut into slices. This method makes better use of the wood than the Sawn style does and costs slightly less.


Rotary Peeled Veneers: Peeled engineered wood flooring is created by logs being processed first in a conditioning vat and then shaped and smoothed with a wood lathe. Next, the wood layers are peeled off in thin strips to be finished and applied to the laminate. This style of engineered hardwood flooring is the most affordable and the most eco-friendly because of its minimal waste, but it is also the weakest in terms of the wood's grain.
Once again, a professional home contractor will be able to assess what type of solid or engineered hardwood flooring will be best suited to your aesthetic and functional home needs. They will also make sure your engineered hardwood flooring is installed correctly and to ensure optimal results. Floor installation possibilities for engineered hardwood and solid hardwood include nail-down installation, staple-down installation, glue-down installation, and floating installation.
Contact us today to get a series of free estimates for your own hardwood floor installation project!
save on del.icio.us
Share on Facebook