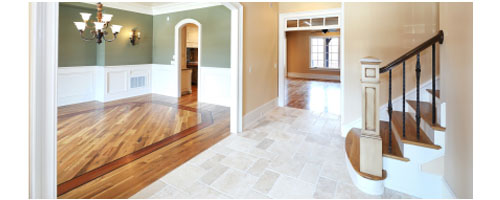 Flooring Trim
When you install brand new flooring in your home, a very important last touch is installing the flooring trim, or floor moldings. No matter if you've chosen glue-down ceramic tile flooring, or floating engineered wood flooring, you will need to finish and protect it with the right flooring trim. Also known as floor accessories, transition strips, and finishing pieces, flooring moldings are a detail that homeowners shouldn't overlook.
Floor moldings come in many shapes, sizes and materials. The main distinction that separates types of flooring molding is how each type facilitates transitions, either from one section of flooring to another, from the floor to the wall, or from the floor to a stairwell. There are 5 main types of flooring trim and transition pieces used today.
Square Nose or End Cap Moldings
End cap moldings, or square nose moldings, are one of the most commonly used floor transition strips, and they can be implemented in several different ways. End cap moldings can transition from one type of flooring to another, and also transition from flooring to sliding door tracks and exterior door thresholds.
Many types of flooring need expansion gaps to accommodate expanding and contracting of the floor tiles or planks. End cap moldings smoothly cover those gaps and join two different flooring sections together, be they laminate, hardwood, vinyl or linoleum. They are also used to cover gaps between flooring and door thresholds.
Wall Base or Quarter Round Moldings
For flooring with expansion gaps, having molding or trim to cover the space where the floor joins with the walls is essential to the aesthetic quality of any room. Quarter round moldings can be purchased unfinished and then stained or painted later to the homeowner's personal specifications, or to match the flooring or décor. Pre-finished quarter round moldings can also be purchased. A basic rule of thumb is to make sure the width of your molding is double the width of the expansion gap.
Reducer Strip Moldings
Reducer strips or reducer moldings are the transition molding that's used to connect two flooring areas that are different types, or are at different heights. Reducer strips can also be used to connect flooring to a sliding glass door. Like the other molding styles, reducer strips are often made of wood, and can be stained or painted to match the room it's being used in.
T-Moldings
Similar to reducer strip moldings, t-moldings connect two separate flooring sections. However, rather than connecting flooring sections that are at different heights, t-moldings connect flooring that's evenly matched up and just needs to be attractively joined.
An important thing to remember when using t-moldings is that the two floor sections must be the same height; otherwise the molding strip won't join the sections smoothly, and the strip will likely break as a result. Another cautionary tip is to make sure you or your flooring contractor have allowed for enough space around the molding's "T" piece. If not, when the floor is subject to contraction or expansion, the "T" section could be put under too much stress and break.
Stair Nose Moldings
Used on, you guessed it, stairs, the stair nose moldings cover the sharp 90-degree angles formed at stair edges. Stair nose moldings come in two varieties, flush and overlapping.
Flush stair nose moldings are cut to be flush with the stair edges, and connect with tongue-and-groove or click parts. The flush variety of stair nose moldings is a little more challenging to accomplish since the need for precision is much greater.
On the other hand, overlapping stair nose moldings are easier to install, and they're also an effective way of covering up bad saw cuts or slightly uneven flooring. The overlapping molding slightly hangs over the 90-degree edge of the stairs.
When it comes to measuring the transition strips and picking the right size for your floor moldings, you can always give it a go yourself. However, repairing flooring trim mistakes can be a hassle, not to mention costly. If you aren't an experienced flooring contractor, floor molding installation is usually best left to a professional; especially when dealing with expansion gaps and tricky moldings like the flush stair nose technique!
Contact SignatureContractors today to get 3 free estimates for flooring trim from experienced contractors near you!
save on del.icio.us
Share on Facebook