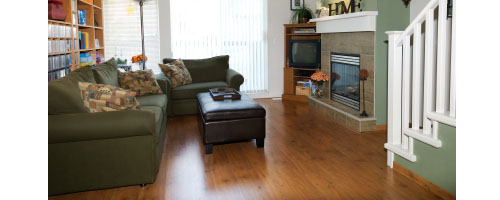 Laminate Flooring
When laminate flooring was first created, many consumers considered the material to be a cheaper, less sophisticated alternative to flooring options like natural wood flooring. Today, this assumption couldn't be further from the truth. Laminate flooring has only continued to develop and improve in recent years, and today's options in laminate flooring provide both quality and variety.
Laminate flooring is composed of several fused layers of synthetic and paper substances, and designed to replicate the look of natural materials like wood, stone or tile. The layers often consist of a thin plastic sheet that separates the laminate from the substrate flooring, melamine-resin plastic backing, a core of high-density fiberboard that's also coated in resins, water-resistant glue and/or sealants, a decorative film layer that gives the flooring a unique appearance, and a melamine wearlayer to prevent surface damage from scuffs, scratches, dents or burns.
Because of the laminated material's sustainable nature, this flooring is ideal for just about any room in the house! High-traffic rooms, or rooms that see a lot of accidents and spills, like the kitchen and bathroom, can benefit from the tough, long-lasting protection of laminate flooring. Better yet, because of all the newly developed styles and replica materials, laminate flooring now boasts a high-end appearance to match its high-quality material—not to mention a highly affordable cost!
Types of Laminate Flooring
The different patterns and styles of laminate flooring are too numerous to list, but in terms of laminate flooring construction methods, there are two main types, High Pressure Laminate (HPL) and Direct Pressure Laminate (DPL) flooring.
High pressure laminate is considered the more sturdy and durable of the two options. HPL flooring is installed in roughly a two-step process. First, the initial laminate planks are glued together, and then these planks are fused to the remaining materials. The resulting floor planks are then typically installed with a glueless, tongue-and-groove "click" or snap locking system.
DPL flooring cuts out the first step since this variety is comprised of only around 3 layers; by comparison, HPL flooring is made up of at least 5 layers of material, including Phenolic Treated Sheets for extra durability. This is why many contractors and homeowners favor High pressure laminate flooring, because it's stronger, thicker, and it can better stand up to wear and tear. Of course, for these same reasons, HPL flooring is also more expensive.
Installing Laminate Flooring
No matter the laminate style your flooring contractor, or qualified home contractor, is installing, you can bet they will be installing a laminate floating floor. The floating floor technique is referred to as such because the floor is literally floated loosely over the subfloors, rather than directly attached to the substrate level. By having floating laminate floors, the material will be able to safely expand and contract with changing moisture levels, without causing any damage to the space. To minimize the distortion of the laminated planks, even while accounting for the possibility with floating installation, laminate flooring planks should be pre-sealed on the edges before leaving the manufacturer.
Contact us today to get 3 free estimates for laminate flooring projects from reputable contractors near you!
save on del.icio.us
Share on Facebook