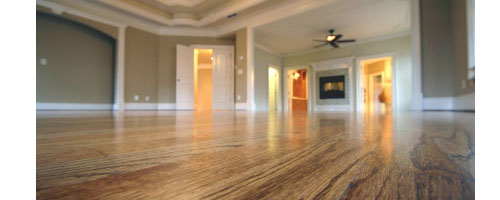 Flooring: A Quick Look
When building a new home or remodeling an existing one, most would agree that after the foundation and the framework, the most important considerations are the roof, walls and the floor. Everything in between seems like minor details by comparison. In other words, these are not areas you want to skimp on in the construction process. In this article, we'll touch on some of the most popular flooring options and installation methods, and help you straighten out the details for your home's new flooring.
Starting From the Ground Up
Flooring is essential to the functionality, design and maintenance of any home. Quality floors can pull a room together stylistically, protect your home from excess wear and tear in high-traffic areas, and even increase your home's sanitary conditions with antimicrobial or mold-resistant flooring options.
In the kitchen, the bathroom, the bedroom, you name it—flooring that's sturdy, safe and beautiful is a must! So what types of flooring are there to choose from? The options today are numerous, and new flooring materials are being developed all the time to meet the varied needs of consumers. Currently, popular flooring options include solid hardwood flooring, resilient or vinyl flooring, porcelain and ceramic tile flooring, linoleum, natural stone flooring, and laminate flooring.
The best way to determine what type of flooring to use in your home is to identify you and your family's flooring needs; these may change from room to room, or remain consistent throughout the house. For example, you might want stain-resistant flooring for the kids' rooms, durable slip-resistant flooring for the kitchen and hallways, luxury flooring for the dining room and master bedroom, etc.
Floor Installation
When it comes to floor installation, getting the job done right is very important in terms of safety, the floor's longevity, and total cost-effectiveness. That's why your best bet for installing new flooring or repairing old flooring is to rely on the assistance of a professional home contractor in your area.
Not only can a reputable flooring contractor make informed recommendations on your flooring choices, they will be able to install the selected materials properly, and also give you tips for maintaining and preserving your new floors longer. The installation process specifics will depend on the flooring style and material you choose, and on the layout of your home and understructure. Hardwood flooring can be implemented using staple or nail-down installation and even glue-down installation. Other types of flooring can be installed with glueless installation, floating installation, "click" or snap panel installation, etc.
Contact SignatureContractors to get started with your own new flooring project! We will quickly obtain up to 3 free estimates from some of our trusted flooring contractors near you, thus simplifying your goal of attaining stylish, reliable, beautifully constructed floors!
save on del.icio.us
Share on Facebook