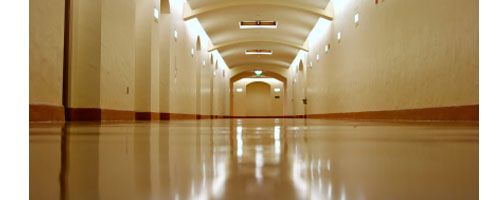 Linoleum Flooring
Linoleum has been around for many years, thanks to its durability, cleanability, and its resistance to burning, cracking, etc. Often confused with vinyl flooring, linoleum actually differs quite a bit in its composition and suitability to different rooms in the house.
Linoleum flooring is made up of mostly natural substances like cork or wood powder, limestone, linseed oil, resins and color pigments. Whereas other types of floor tiles will have a backing of fiberglass or synthetic plastic, linoleum flooring uses a jute backing, which is made up of natural plant fibers. For all of these reasons, linoleum has gotten a reputation as a "green" flooring option for homeowners. Linoleum flooring is also hypoallergenic, anti-static and antibacterial.
More About Linoleum Flooring
Linoleum flooring comes in a great variety of colors and styles, and installation methods include glue-down, and click or locking panels for floating installation. Additionally, homeowners can choose linoleum panels, sheets, or smaller, individual tiles to floor their kitchen, bathroom, hallway, etc.
While linoleum flooring is slightly more costly than vinyl, it is still very affordable considering its product life. Referred to in the past as the "40-year floor," linoleum will maintain its appearance and quality for at least 15-25 years.
Here are some things to keep in mind for ensuring your linoleum floor stays in prime condition:
Protect your linoleum flooring from direct sunlight. Colored linoleum can fade over time from sun exposure.


DIY linoleum installation is only a good idea if you are using click panels, and if you are confident with correctly cleaning and preparing the subfloor – if there are imperfections or if the subfloor is uneven, it will show through the linoleum's surface.


Clean your linoleum flooring with a broom, vacuum or, at most, a mop and cool water. Acidic or oil-based cleaning solutions can damage linoleum.


Protect your linoleum from scratches by padding the base of furniture, picking up and moving objects rather than sliding them across the floor, and keeping pets with long or sharp nails off the linoleum.


Don't expose your linoleum to too much moisture, and definitely don't use linoleum outside or in open air locations. Linoleum is susceptible to moisture absorption, and saturation will damage the flooring over time.
If you'd like more details about linoleum flooring, or want to determine if linoleum is right for your home's kitchen, bathroom or basement, we recommend meeting with a professional flooring contractor in your area.
save on del.icio.us
Share on Facebook