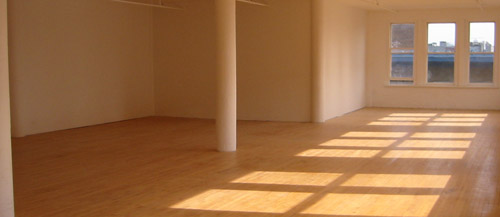 The Future of Flooring
Like any industry, home construction is one that never stands still. When looking at the future of flooring, there are two main recurring trends. One is sustainability, and the other is comfort, though style is never sacrificed.
What's Wrong with the Present Flooring Methods?
Many modern flooring materials like hardwood or carpet are unsustainable or downright unhealthy. A hardwood floor is made from the trunk of a tree, and that tree needs to be cut down. Since trees don't regenerate—you can only cut approximately a third of a trees branches off before it dies from injury—this means that it'll take years for another tree of similar size to take its place. Carpet is not always a safe bet, either. Most carpets are made from synthetic materials. Some even contain carcinogens that have made it onto the EPA's list of Extremely Hazardous Substances.
Hardwood Alternatives
Usually positioned in the living and dining rooms, hardwood flooring has a lot going for it. However, it's difficult to imagine hardwood remaining as popular as it is today, given the benefits of its new challengers.
Cork is an excellent alternative to hardwood. Since the cork that is used in flooring comes from the bark of the cork tree, it can be harvested without killing the tree. Cork is stiff enough to maintain its shape, but it is also more flexible than hardwood. Its low density makeup allows it to regain its normal shape quickly. Cork is also an excellent insulator and is much more resistant to fire than hardwood. While cork flooring can't precisely match the classic look of wood, it comes close, and it also comes with a lower price tag.
Bamboo is yet another alternative to hardwood. Until recently, a bamboo floor would be made up of round poles and extremely uncomfortable to walk on. However, advancements in technology have allowed bamboo to be made into flat, attractive planks. The fastest growing plant in the world, bamboo yields approximately 25 times that of a tree, and it is another material that does not require the plant be killed when harvesting.
Rubber is probably the last material you would think of when you think flooring, yet there are many characteristics that make it an ideal material to put underfoot. Rubber is durable, easy to clean, sound absorbent, completely recyclable, and, like cork, it's much more flexible than hardwood, perfect for active kids or older folks with sensitive ankle joints. Like cork, it regains its shape after each step, so there's no need to worry that your floor will be riddled with dimples whenever you have a group of people over. Rubber is ideal for playrooms, garages, kitchens, and bathrooms.
Carpet Alternatives
Carpets of the future are ones that are natural and can be composted or are easily biodegradable. One such carpeting material includes wool carpets. One of the best natural insulators in the world, wool carpeting is eco-friendly, health-friendly, and especially feet-friendly.
Other such renewable fibers prime for carpeting includes Seagrass, Sisal and Coir. Seagrass is just what it sounds like: grass that grows on the bottom of the sea. Seagrass rugs are already used widely in many Oriental countries. Sisal is from an agave plant that is used to make rope and certain types of twine. Coir is a fiber that comes from a coconut's shell. Each of these can be fashioned into a wide range of styles and sizes.
Eco-friendly fanatics out there may even opt for a living floor. There are already instances, although rare, of people devoting a portion of their home's flooring to moss and grass, as foretold by science fiction writer Robert Heinlein. A patch of grass in a room that gets plenty of sunlight serves as more than a space to walk comfortably barefoot—it also cleans the air and helps keep the space cool. Plus, on a living floor, you don't need to worry about spills.
Many of these options are available right now from licensed flooring contractors. You can research flooring options for your home right here on Signature Contractors, and even schedule a free assessment and estimate from a specialist direct through our services.
save on del.icio.us
Share on Facebook