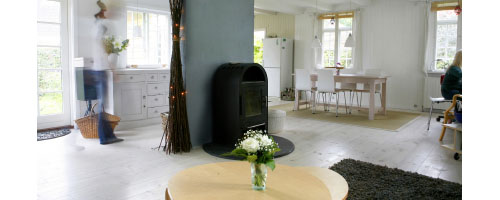 Vinyl Flooring
Vinyl flooring, also known as resilient flooring, is a very popular flooring option today for every room in the house. While at one time, vinyl was not available in many attractive colors or styles, it has since come a long way. Today, vinyl flooring has one of the broadest selections of materials, colors and styles out there! Additionally, vinyl flooring is one of the most affordable, "resilient" options a homeowner can choose for their kitchen or bathroom.
What are the style options for vinyl flooring? Well, today's vinyl flooring can attractively imitate more expensive flooring materials like stone, wood and tile. There are also several possibilities when it comes to the installation process, with vinyl flooring materials coming in rolls, squares, planks and strips.
Types of Vinyl Flooring
Vinyl flooring can usually be categorized by the two methods of construction, inlaid vinyl floor construction and rotogravure vinyl floor construction.
The inlaid method is the older of the two, and is ideal for creating vinyl flooring with geometric designs. The inlaid vinyl floor is created by bonding colored vinyl chips to a base flooring sheet; then a clear wearlayer is placed over the chips to protect flooring from damage.
A more modern vinyl flooring technique is the rotogravure process. Rotogravure allows for more variety in flooring patterns and styles, and is created by using a spinning cylinder to print shapes and dyed patterns on the flooring's core layer. Like with the inlaid technique, rotogravure vinyl flooring is finished with a clear wearlayer to protect the floor's condition.
The choice of an inlaid vinyl floor or a rotogravure vinyl floor will be up to the homeowner, as either can be ideal depending on personal taste and preference. If you're confused about the style of flooring that's best for your home, or have made a decision but want a professional second opinion, an experienced flooring contractor can help you along. Vinyl flooring is a safe, long-lasting flooring option for your kitchen, bathroom, sun room, or anywhere else you want it; but to promise you get the most mileage out of your floor, it's recommended that you go through a professional home contractor to help you install it.
Resilient or Vinyl Flooring Installation
No matter what type of vinyl or resilient flooring you get, you will want the floor to be installed properly, and to hold up for a long time. Vinyl flooring is commonly installed through a glue-down or adhesive process. Since resilient flooring is made up of synthetic and plastic composites, and thus not susceptible to distortion with extra moisture, there is usually no need for floating installation.
By installing a vinyl or resilient floor in your home, you can expect that your floor will be easy to clean, will stand up well to scratches and dents, will remain looking like new for a considerable period of time, and will be resistant to a majority of stains. The best way to promise your vinyl flooring will perform all of these ways is to check and make sure your flooring has a thick, durable wearlayer. The wearlayer's thickness is measured in mils, and the greater the mils and the nicer the finish, the longer your vinyl floor will last. A nicer wearlayer typically comes with a larger price tag, but the extra cost is surely worth having to replace an entire floor sooner than you'd anticipated.
Contact us today to get in touch with a trusted home contractor who specializes in vinyl flooring!
save on del.icio.us
Share on Facebook