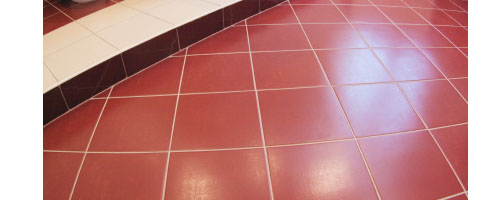 Tile Flooring
Tile floors have become a very modern, elegant style for homeowners looking for chic but practical flooring options. Because tile flooring is mostly comprised of natural elements like clay, stone and porcelain, tile flooring brings a certain natural appeal, as well as a luxury appearance to any dining room, bathroom, kitchen, etc.
Types of Tile Flooring
There are a number of styles, designs and tile materials to choose from when it comes to tile flooring. The most popular tile materials used today include ceramic tile, marble tile, granite tile, porcelain tile, travertine tile and slate tile.
Ceramic Tile Flooring
An extremely popular tile choice for commercial and residential bathrooms, kitchens, countertops and backsplashes, etc., ceramic tile is available either glazed or unglazed, depending on the homeowner's preference of design and the tile's purpose.
Glazed ceramic flooring is the obvious choice for high-end ceramic tile, since the colors and designs are much more plentiful with this option. The glaze, which is actually a liquid glass colored with gold, copper, zinc, silver or mercury, is applied to the surface of the ceramic tile and then baked. Afterwards, the glaze becomes a glossy, colorful finish that can be resistant to stains, odor absorption, fire, scratches, and fading in direct sunlight—not to mention the glazed tiles are extremely easy to clean!
Unglazed ceramic flooring only comes in the color of the ceramic tile itself, and isn't as well protected from stains, fading or scratching. If you are opting for unglazed ceramic tiles, you may want to ask your flooring contractor to apply a quality sealant, if the manufacturer hasn't already.
Marble Tile Flooring
Marble has been a popular building material for hundreds of years. It was commonly used for both construction and sculpture art since the ancient Greek and Roman times, and today it is both a luxurious and reliable substance for home construction. Marble tile is great for bathroom floors and is also an attractive material for fireplaces and architectural designs. Marble is formed in an unpredictable process where sedimentary rocks like limestones undergo crystallization. Because of the variations in its formation, marble comes in a variety of colors and each tile will be slightly unique.
While marble tile is considered to be hearty enough for some flooring areas, the material is more fragile than other types of tile, like granite. For this reason, marble tile is recommended for strictly indoor use, and isn't a good choice for countertops and backsplashes, or areas that will see a lot of wear and abuse.
Get the expert opinion of a flooring contractor, or a home contractor with marble tile experience before planning your marble flooring remodeling project. They can help you assess whether marble flooring will be right in a particular area of your home, and even recommend certain colors and styles, which could alter the amount of required upkeep and even the sensitivity of the marble.
Since marble can be fairly prone to scratching, especially green and black marble, homeowners should make sure their marble flooring is treated with stone impregnating sealants or special adhesives to preserve the quality of their marble floors longer. Your home contractor should be aware of marble's special requirements in terms of sealing treatments and proper cleaning methods.
Granite Tile Flooring
Granite flooring and marble flooring may be in the same boat in terms of popularity, but when it comes to toughness and practicality, granite tile beats out marble any day. Granite is formed from earth's igneous rock formations, and it's a fairly coarse, porous rock. It is also one of the hardest natural materials on earth, making granite flooring, as well as granite countertops and backsplashes, granite fireplaces and granite wall designs a remodeling choice that's both trendy and smart.
Because granite is a naturally formed substance, granite tile flooring will always be unique and highly durable. The finishing or polishing for granite tile flooring can be done to specification, and installation is best left to professional contractors.
Porcelain Tile Flooring
Yet another exceptional flooring option, porcelain tile is denser than ceramic tile, but comes in similar options and has many of the same benefits. Porcelain flooring can use either glazed, or through-body porcelain tiles.
Glazed porcelain flooring is finished the same way ceramic tiles are, with a colored or design-bearing glaze on the tile's surface. This glaze also forms a protective layer against stains, scratches, odors, fading and moisture saturation. However, scratched or damaged porcelain tiles will be noticeable and require replacing. Through-body porcelain tile flooring, like the name indicates, is one solid color throughout the tile.
Because porcelain flooring has such a low probability for moisture absorption or saturation, it is considered acceptable to use outdoors as well as indoors. Porcelain tiles with a water absorption rate of less than 0.5% are known as freeze-thaw stable, meaning under most humidity conditions the tiles will not expand and contract.
Travertine Tile
Travertine flooring is comprised of a natural stone material that has been used since Ancient Roman times. Considered to be both low-maintenance and highly durable, travertine tile is used for flooring, wall decorations, shower stalls, and countertops and backsplashes.
Like marble, travertine is created from limestone minerals. In the case of travertine, these minerals are dissolved in ground water and then deposited in the earth. Travertine flooring comes in a variety of beige tones, and can be finished in a few different ways to create the desired aesthetic effect.
Travertine tiles can come either polished, honed, filled, brushed or tumbled. Polished travertine tiles are rubbed or buffed down to create a smoother, even surface. Honed travertine tiles have cut edges that can be sharp and straight, or that are shaped to fit together in a neat way. Filled travertine tiles are given a more uniform appearance by having their grain surface filled in. Travertine flooring that is either brushed or tumbled means the tiles are left unfilled, they may have uneven or rounded edges, and/or the open-grained tile is polished sparingly to give a natural, old-fashioned appearance.
A trusted home contractor can tell you more about travertine flooring and assist you in choosing the right style and design for you.
Slate Tile Flooring
Slate flooring is a sturdy, rustic-looking option for outfitting the floor of your kitchen, bathroom, patio, or your hallways. Slate is formed over a great period of time, and is made up of mostly rocks, sediment and minerals, including quartz, mica, etc. Slate is a long-lasting option for flooring and wall decoration. Similarly to marble and granite, slate flooring has a unique appeal in every piece, since the natural processes of its formation make a one-of-a-kind pattern on every portion of the rock.
Slate flooring can be tricky in terms of installation, and can require a little more upkeep than porcelain and ceramic tiles do. For this reason, it's best to trust a skilled home contractor with making the correct measurements, selecting the right sealants, and installing each tile precisely. Your contractor can also give you tips for keeping your slate tile flooring in peak condition.
Check Your Tile PEI Ratings
PEI ratings were developed by the Porcelain Enamel Institute (PEI) to determine the level of hardness and resistance to wear that porcelain and ceramic tiles have. The PEI scale can be extremely helpful for deciding whether or not to use tile in a certain room, or for a certain purpose. The PEI scale goes from 1-5 with 5 being the most durable level. Floor tiles rated PEI 5 are able to sustain the most traffic and wear over time. The PEI scale only applies to porcelain and ceramic tile, and doesn't grade slate, travertine, or other natural stone tiles.
PEI 1: Very Light Traffic. PEI 1 tiles are good for rooms or areas with minimal foot traffic, and only with bare feet at that; in other words, bathrooms only.


PEI 2: Light Traffic. PEI 2 tiles are ideal for areas with traffic comprised of soft-shod feet or slippers, like bathrooms and main bathroom areas.


PEI 3: Light to Moderate Traffic. PEI 3 tiles can be installed in any room of the house, except for high-traffic areas like the kitchen, entryways, and possibly rec rooms or dens.


PEI 4: Moderate to Heavy Traffic. PEI 4 tiles are good flooring options for areas with heavy foot traffic, and anywhere that outside dirt or debris can be easily tracked in; this includes the kitchen, entryways, balconies and sun rooms. PEI 4 tiles are also good floor tiles for kids' rooms and work areas.


PEI 5: Heavy Traffic. PEI 5 tiles, ceramic or porcelain, are great for both commercial and residential flooring projects. Because these tiles are so wear-resistant, they are great for heavy foot traffic at home or at work.
Some contractors and tile specialists also make mention of PEI 0 level tiles, which are only suitable for home design and wall decoration. Their fragility makes them a very poor candidate for flooring.
Obviously, there are numerous options for floor tiling projects, ranging from beautiful and rare tiles, to the durable and practical; from rustic and natural, to polished and professional. Only you can decide what the best style and type of tile is right for you and your family's home. Whether you enlist the help of an experienced contractor to assist in your tile floor decision-making, or have the perfect tiles already in mind, hiring a professional to perform the installation for you is well-advised.
Here are some additional tile flooring factors to keep in mind for selecting the perfect tile floor:
Aesthetic appearance
Shape and size
Mohs scale rating (scratch resistance test)
Water absorption rate
Freeze/thaw limitations
Cleaning ease
Bonding strength
Cracking resistance
Impact resistance
save on del.icio.us
Share on Facebook