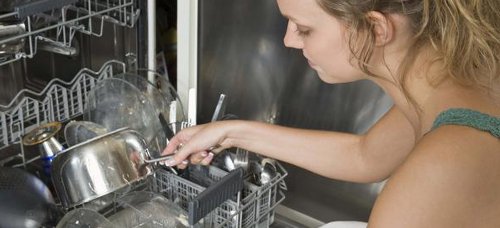 5 Future Trends in Dishwashing
by Dean Anderson
Like plumbing, most people don't think too much about their dishwashers unless something goes wrong. Dishes go in the bottom, glasses on top, silverware in the tray; you close her up and only grumble if you notice soap scum on your favorite wine glasses. But recently dishwasher manufacturers are making strides in wild directions. The following five trends reflect the dishwashers we imagine your (hopefully) obedient robot servants will be loading dishes into in 2050 AD.
1. Advanced Sensors
Modern dishwashers are smart and only getting smarter. There are sensors to detect water levels and put an immediate stop to operation if a leak is detected; dishwashers can now figure the amount of dishes by changes in water temperature; and some fancier models know the level of grime left on the plates by optically detecting the level of murkiness in dishwater. And there's every reason to believe sensors will only continue to grow in complexity. Scientists are currently at work engineering dishwashers with chemical sensors and built-in detergent regulators that will spit out different solvents for specific food products, meaning your children's children may never have to suffer stubborn coffee stains in mugs or cement-like properties of once-melted cheese. Lucky them.
2. Superhot Washers
The future may hold tiny sentient nano-bots that clean your dishes waterlessly like the Scrubbing Bubbles, but for now hot water seems the way to go. But is current dishwashing water hot enough? Most experts say you need water at around 160 degrees Fahrenheit to truly kill all of the bacteria that could be living on plates. Modern water heaters top out at 140 degrees and many lower their tank's top temperature for energy or safety reasons. Even with heating elements many older dishwasher never reach recommended water temperatures. The newest Electrolux washers have a "Hygiene" option that will give a final ultra hot rinse for cleaning cutting boards, knives, jam jars, and the like. It's possible that future models will do away with H20's liquid state altogether and steam bacteria away with the click of a button.
3. The Drawer Dishwasher
Most people are used to dishwashers' low-hinged doors creaking open like a drawbridge lowering over a moat, but the people at companies like Kitchen Aid and Fisher & Paykelare looking to change that. New models are opting for two or three large drawers without so much pvc-coated metal trays and structuring. The advantage to this approach is saved space. Deeper drawers can accommodate bigger pots, sauce pans, and cookie sheets. Some models even boast twice the dish capacity with the same dimensions as normal dishwashers.
4. Portable Dishwashers
While portable dishwashers do exist, the modern idea of portability is throwing casters on something and giving it enough tubing to reach a sink three feet away. However, the future may hold something brighter. Designer David Stockton has engineered a sleek camping dishwasher device that's borrows the size, shape, and functionality of a lettuce spinner. Each custom dish and utensil is clipped into a rotating rack and a water-tight shell snaps in place around it all. Add a few cups of water, biodegradable detergent, and crank a handle to get the dishes spinning separate of the shell. Dump the soiled water out, add fresh H20 to rinse, crank again. Empty that out and crank once more to whip plates dry via the centrifugal force. A larger version rumored to be in the works might provide the most "green" dishwashing experience ever.
5. Ultra-Capacity Dishwashers
If you've ever hosted Thanksgiving dinner at your house you've probably found yourself wishing for an impractically large dishwasher capable of obliterating leftovers from the plates of even the pickiest eaters. The Touchtronic Platinum Anniversary dishwasher is exactly that. Looking more like a safe than a dishwasher, this behemoth is designed to clean fourteen place settings in a single heave. Not only does it have superheated water and turbines to blast away grime, but it makes other dishwashers sound like jet engines in comparison to its gentle humming cycle. Hopefully this technology will become standard (and cheaper) in all future washers.
Can't wait until the future to get started on your kitchen renovations? Need a new dishwasher installed? Contact us today. Our Signature Contractor representatives can schedule you a free consultation with a certified contractor in your area!
save on del.icio.us
Share on Facebook