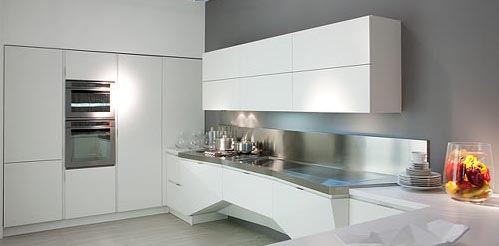 Kitchen of the Future: New Kitchen Remodeling Innovations on the Horizon
If you are thinking about remodeling your kitchen, you naturally want the most up to date design trends. The future of kitchen gadgetry holds infinite wonders that have not been conceived since the Jetsons were on the air. If you want to be ahead of the game, in a position to make your neighbors gawk at the technological wonder that is your home, look no further.
PERSONALIZATION
Digital technology is taking over the home. Because of the ease with which digital programming can help you personalize various aspects of your kitchen, hip homemakers everywhere will soon be implementing these products. It is now possible, for example, to customize the temperature and pressure of the kitchen faucet. For those who go for awe inspiring gadgetry over aesthetic appeal, there are also several companies that offer a temperature controlled light to go with the faucet.
LED LIGHTING
LED (Light emitting diode) lighting grows less expensive by the year. Being the most energy efficient of all lighting options, it is no surprise that many design experts are expecting it to take over completely within the next decade or so. Their usage is already on the rise, especially in under cabinet lighting.
RETROFIT
Apartment dwellers have long been limited in their abilities to customize their spaces. Recently, designers have begun to recognize that many of us live in transient situations. Companies like M. Pact and Robern are creating ways to quickly update appliances with retrofitting. In such a system, fixtures are standardized to allow easy updates and changes. The common valves on M.Pact faucets allow homeowners to change between styles with relative ease. Robern has innovated a line of medicine cabinets, which, in addition to being easily personalized, are designed to seamlessly replace older models.
SLIDING STORAGE
Sliding storage provides a way to get unsightly, but necessary things out of sight until they are needed. This is a good way to tuck away appliances that only need to come out once in a while, saving precious counter space for the things you do use every day. Aside from being a space saver, it is simply impressive to see a television screen or knife block rise up from your kitchen island. Companies like True Professional have also adapted cabinet and drawer space for refrigeration. As anyone who has ever habitated anywhere knows, despite your best efforts, fridge space can be a premium. The True Professional Series also includes a self-closing feature.
The remodeling trends of the future combine utility with ingenuity to perfect your kitchen environment. To hear more about the latest kitchen remodeling innovations or to arrange a free, on-site project assessment from a local, licensed kitchen contractor, contact us today!
--Kate Blair
save on del.icio.us
Share on Facebook