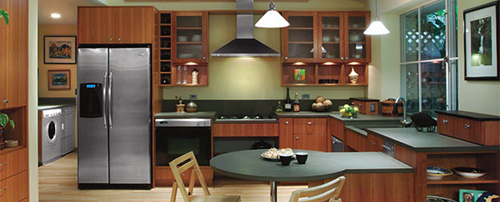 Kitchen Remodeling Trends for 2011
Whether you're thinking of remodeling your outdated kitchen in 2011, or you want your brand new kitchen to incorporate the latest kitchen trends, there's lots of exciting new kitchen design options to consider this coming year! Read on to discover some fun and functional kitchen remodeling trends for 2011 that cover lighting, décor, color, organization, and green improvements.
The Latest in Kitchen Remodeling
Lighting. Décor. Color. Organization. Green.
1) 2011 Kitchen Lighting trends will include both hidden lighting and statement lighting fixtures.
2011 kitchens should first and foremost receive ample natural light in the daytime, so consider installing additional windows or a skylight to make your kitchen sunnier and more inviting.
When it comes to artificial kitchen lighting in 2011, recessed lights or recessed track lighting fixtures over the sink and underneath kitchen cabinets will create a soothing glow.
Statement lighting pieces are also going to be big in 2011. Pendant lighting or chandeliers in wrought iron, bronze or art deco styles will make for a brighter kitchen, while adding a unique touch of fun or glamour. Lampshades are also making a comeback in the 2011 kitchen. Choose a lampshade with a graphic print or bold colors to really make a lighting centerpiece pop—especially in a neutral or white kitchen.
To add some unexpected color and unique illumination to a kitchen in 2011, install a green or blue LED light near backsplashes or atop overhead cabinets. It can either complement other color accents in the kitchen, or immediately change the mood of the space as a whole.
An expert lighting or electrical contractor can help you select and install your ideal kitchen lighting setup in 2011, as well as install custom features like dimmer switches or light sensors and timers.
2) 2011 Kitchen Décor trends are going more natural.
Emphasize natural materials like hardwood, bamboo and granite in your 2011 kitchen. More and more trendy homeowners will be shifting away from stainless steel and synthetic materials in 2011, everywhere from their kitchen counters and cabinets, to lighting fixtures, appliances and accessories. Not only can natural materials create a warmer, more inviting kitchen space in 2011, they are typically durable and sustainable.
Think organic or natural shapes for 2011 kitchen décor as well. Instead of sharp edges and standard angles, choose more fluid lines and rounded edges for cabinets, furniture and countertops. There are many types of countertop edge styles available to choose from, such as radius, egg, bevel, bullnose, ogee or dupont. Discuss your kitchen countertop options in greater depth with an experienced countertop contractor in your area.
Glass is also making its way more prominently into the 2011 kitchen. Glass tile backsplashes and ceramic glass cooktops, as well as more glass kitchen containers will become increasingly popular in 2011. Glass tiles are easy to clean, easy to replace, and come in a wide variety of colors and styles. Additionally, glass spice jars, glass leftover containers and glass beverage containers are becoming top choices because they're durable, airtight, and they don't leach or break down over time like some plastics.
3) 2011 Kitchen Color trends are turning up the heat.
Kitchen color trends in 2011 are looking bold and spicy. Think mottled reds, faded copper, warm cinnamon, ginger, burnt oranges, buttery yellows, rich coffee, punchy apricot, and/or rich clay tones. These subtle yet fiery hues will add depth and comfort to your kitchen surroundings. Warm colors are also proven to stimulate appetites! If you aren't into reds, feel free to play with splashes of soft greens, plummy purples or even some pink.
Contrast will also be important for kitchen color trends in 2011. Monochromatic kitchen looks are definitely out, so it's important to show some depth and dimension—no matter how subtle or bold your kitchen color palette is. If you have lots of stainless steel appliances and fixtures, do get colorful with the kitchen cabinets, counters or backsplashes. If your kitchen counters and backsplashes are metallic or made of wood, play up colors on the walls, with lighting, or in the décor.
Once you've chosen your 2011 kitchen colors, a professional painting contractor can help ensure your colorful kitchen vision is done to perfection.
4) 2011 Kitchen Organization trends will make your kitchen more functional and efficient.
Overstyled kitchen décor, cluttered drawers, busy designs and cramped kitchen layouts can create unnecessary distraction and stress in the kitchen; they can even become safety hazards. Bottom line: you don't want your kitchen disorganization to inhibit your cooking/dining experience or detract from your kitchen's ambiance.
Some 2011 kitchen organization trends will include:
Pull-out drawers: Install pull-out kitchen drawers below your counters and never again have to dig for your favorite casserole dish. Shallow pull-out drawers are perfect for silverware, ramekins, saran wrap and tin foil, and small utensils like bottle openers and wine stoppers. Deep, wide pull-out drawers are good for storing baking dishes, pots, pans, skillets and other commonly used cookware.
Floating racks or vertical wall racks: keep heavy pots and pans at eye-level on a hanging rack, or neatly organized on the wall. This makes finding the right piece of cookware all too easy, and prevents constant bending over to look for and pick up the needed item.
Kitchen islands: if you have the floor space in your kitchen, build a kitchen island or a breakfast bar adjoining the end counter. A kitchen island can provide an extra surface for food prep, serving and eating. Plus, underneath the island counter there'll be space for more drawers or storage shelves.
Cabinet carousels: let rarely used cooking items or canned goods go for a carousel ride in that hard-to-access corner cabinet. By installing a cabinet carousel or a lazy susan, kitchen items that aren't as regularly used can be kept nearby but still out of the way.
Caddies and tiered racks: in the kitchen pantry, or in your cabinets, try using a rotating caddy or tiered spice racks to store your spices, condiments and canned goods. These handy devices will allow all items to be readily viewable and used.
For added assistance with kitchen organization in 2011, try hiring a professional home organization specialist to really maximize your kitchen's functional possibilities.
5) 2011 Green Kitchen trends will continue to take off in 2011. This is true for materials and appliances used in the kitchen, but also for cooking practices and techniques.
We touched on the kitchen décor trend of using more natural and sustainable kitchen materials in 2011. But the green kitchen trend is also about using energy-efficient appliances, and minimizing overall energy usage and waste in the kitchen itself.
It's been calculated that more energy is used in the kitchen than in any other room of the house. This great amount of energy use is mainly attributed to refrigerators and ovens, but inefficient dishwashers, toasters, blenders, coffeemakers and microwaves all contribute as well. If you have the means in your 2011 kitchen budget, consider purchasing new kitchen appliances with high energy-star ratings and re-selling or repurposing your old appliances.
According to the Energy Star website, their fridges are required to use 20% less energy than non-energy star models. You can also buy energy star-certified dishwashers, freezers and more, at major kitchen appliance retailers.
In addition to selecting energy-efficient kitchen appliances in 2011, many homeowners will be making a greater effort to reduce and reuse (we hope you're already recycling!). Kitchen composting systems will become more common and desirable. It's estimated that most families waste about 25% of food purchased, or throw away $590-$600 worth of food every year. By cutting out impulsive food purchases and introducing a home composting system to your kitchen, your family can save money and minimize waste in 2011.
Low-flow kitchen faucets are another way of conserving in your 2011 kitchen. Faucets from Kohler, Grohe and American Standard are estimated to conserve water consumption by as much as 30%. Low-flow faucets and spigots are also now available in many attractive styles and materials, like polished chrome, bronze and nickel—so your 2011 eco-friendly kitchen can conserve while still exuding class.
For more kitchen remodeling trends, ideas and recommendations in 2011, we advise meeting with a licensed kitchen remodeling contractor near you!
save on del.icio.us
Share on Facebook