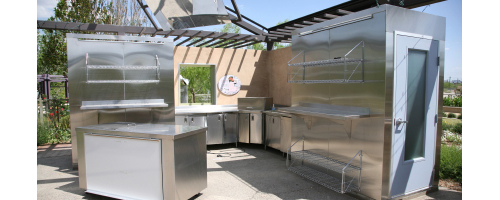 Building an Outdoor Kitchen
Want to really wow the neighbors/co-workers/family this summer? Host an unforgettable outdoor cookout this year in your new, state-of-the-art outdoor kitchen! You don't have to be a celebrity to eat out in style these days—by building an outdoor kitchen with all the modern conveniences and amenities of a gourmet indoor kitchen or restaurant, you can enjoy fine dining alfresco, in your very own backyard!
A Heightened Cookout Experience
Lately, outdoor home kitchens have been heating up the standard bbq scene. Your George Foreman was great for the dorm room, and that portable Hibachi is still a tailgating hit, but the grownup way to host a home cookout is with a fully outfitted outdoor kitchen!
The options for outdoor kitchen designs and accessories is vast, and your outdoor kitchen can easily be customized to fit your outdoor space, your outdoor entertaining needs, and your unique style. The specific fixtures in your outdoor kitchen may include a bar area attached to your built-in grill space, an outdoor fireplace or hearth situated near the dining table, a screened-in dining gazebo to eat your sizzling summer eats away from greedy insects, etc.
The choices in terms of materials and appliances are also abundant—but no less important than your kitchen's design! Since this is an outdoor kitchen, there are important planning considerations to be made to ensure that your outdoor kitchen won't be compromised by bad weather, local wildlife or the occasional pool-side rowdiness.
Planning Your Outdoor Kitchen Space
First, you'll need to determine what kind of an outdoor or backyard space you're working with. This will have a large effect on the design of your kitchen's layout, and on your selection of outdoor kitchen accessories. If your yard is presently unoccupied, your limitations will be fewer. If you already have a deck or patio, a pool, or a garden in your backyard, the room for building your outdoor kitchen will be restricted or limited to certain areas and dimensions. However, managing to combine your outdoor kitchen with one or more of these existing structures could actually increase your outdoor kitchen's uniqueness, functionality and beauty.
For instance, you may find your dining patio joins to your outdoor kitchen space quite conveniently and naturally; or that an outdoor kitchen built amidst your blooming perennial or rain garden provides a pleasant cookout ambiance that you wouldn't have expected. And we all know that pool parties can only be improved by freshly grilled snacks and chilled beverages.
Get creative with your backyard space and you shouldn't have to sacrifice one outdoor feature for another. An experienced landscaping contractor can help you maximize your backyard's potential, by suggesting ways to incorporate your outdoor kitchen realistically and successfully.
Outdoor Kitchen Grills
The grill is arguably the most vital component of any outdoor kitchen. True, an outdoor minibar can be fun on its own, but the grill itself has forever been a staple of outdoor entertaining. With that said, it's important to appropriately choose the right type of grill, the correct grill size, and the ideal grill style for your outdoor kitchen.
One of today's most popular grill choices for outdoor cooking has become natural gas. This is mainly because natural gas grills are very convenient to use, they easily regulate temperature, and they're cleaner to work with. Plus, it's no fun waiting for those charcoals to heat up—especially when you have a line of burger-starved kids or buddies lying in wait! With natural gas, just the touch of a button can make your grill ready for brats and burgers in, literally, a hot second! However, charcoal grills still serve their purpose, and they provide that priceless bit of smoky nostalgia some grillers can't get enough of. The choice is up to you. Electric grills are another modern possibility for increased grilling ease and efficiency. No matter what type of grill you prefer, you will need to determine how and where it will fit into your outdoor kitchen as a whole.
Since the grill is usually the main attraction in an outdoor kitchen, most homeowners like to feature it prominently in the layout. You will also want to situate your outdoor grill so that it facilitates easy food preparation and serving, and so that it won't be easily accessible to younger children and pets. Be mindful of grilling safety hazards when planning the space as well (i.e. don't place your electric grill near the pool edge!). Outdoor kitchen grills can also be built-in, free-standing, cart-mounted or portable.
Outdoor Kitchen Accessories
Once you've chosen your outdoor grill, the kitchen's pièce de résistance, you can take your time selecting other possible outdoor kitchen accessories and features that you want. Here are some additional accessories you may decide are essential for your outdoor kitchen:
built-in refrigerators
grill ventilation systems – recommended for outdoor kitchens that are slightly enclosed or under low ceilings
ice machines
outdoor kitchen islands
food warmers
freezers
fireplace/hearth
bar/cocktail area
outdoor kitchen sinks
enclosed trash bins
side burners
pizza ovens
sound system
television
lighting systems
The bottom line is that only you can decide which accessories are necessary in your outdoor kitchen. Your needs will differ based on your personal tastes, and on who you plan to entertain in your outdoor kitchen (a custom beer cooler may not be crucial for outdoor cooking with your family, but it might make or break a cookout on guys' night).
Outdoor Kitchen Materials
Outdoor kitchen material choices will be limited more by safety and durability than they will with indoor kitchen remodels. This is because your outdoor kitchen will be exposed to a lot more wear and tear than your indoor kitchen will.
Popular materials for standard kitchens include linoleum or vinyl flooring, granite or laminate kitchen countertops, and open-air pantries. By comparison, outdoor kitchens must be better protected, better preserved, and they must be constructed of the topmost durable materials.
One of the most standard, durable material choices for outdoor kitchens is stainless steel. Stainless steel is a smart choice for outdoor kitchen appliances and fixtures because it's very impervious to weathering, staining, rusting, and heat damage. As far as countertops go, a popular choice is natural stone or brick. Obviously, since these are materials commonly used for exterior construction, they will be sturdy and reliable building materials for your outdoor kitchen. A masonry home contractor can help you design and build customized stone or brick features for your outdoor kitchen.
Building Your Outdoor Kitchen
So you've created and finalized your outdoor kitchen remodeling budget, planned and designed your outdoor kitchen's layout, and selected the materials and appliances you will be implementing in your kitchen—now it's time to make your outdoor kitchen fantasy a reality.
The first step in the construction process is to share your outdoor kitchen plans with one or more trusted home contractors to obtain a project estimate. Professional contractors will then confer with you about the best way to create your outdoor kitchen, and make suggestions for completing the project swiftly and successfully. They can also recommend an experienced subcontractor, if needed, to create customized details or designs based on your ideal outdoor kitchen appearance!
save on del.icio.us
Share on Facebook