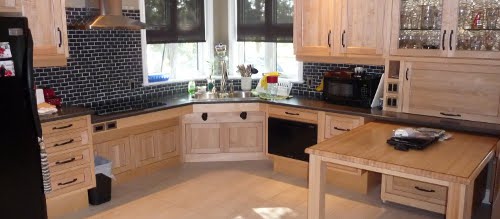 Handicap Accessible Kitchen Remodeling
by Kate Blair
It is difficult when a loved one becomes less capable of enjoying their home environment. This might be due to illness, an accident, or the advancement of old age. When wheelchairs or walkers enter the picture, the old layout of the home becomes incredibly unaccommodating. The kitchen is suddenly a daunting challenge to navigate. This could be a deep source of anxiety for those newly learning to live with disabilities. Many people are forced to movie in such a scenario, but it can be heartbreaking to separate from a space that has so many memories attached. Instead of moving, remodeling will enable that deep connection to the space to be maintained, with a few accommodating updates. Many contractors specialize in wheelchair accessible remodeling. The largest challenge in remodeling for handicapped access is in allowing access to shelving and appliances that are not easily within reach for someone who is seated. Here is a basic overview of some common handicap access remodeling projects for the kitchen.
Kitchen Counters
Lowering the counters, or having counters of varying heights will enable people of all different heights to comfortable share the kitchen. The average height of a wheelchair armrest is approximately 29 inches. Countertops should therefore be most comfortable at a height of about 32 inches, but no higher than 34 inches. About 24 inches of height above the floor leaves comfortable space for knees. Because varying counter heights might leave you with lots of corners, rounding them off for comfort is a good idea.
Kitchen Sink
A similar premise applies to all surfaces in the kitchen. In order to be made accessible, they must be lowered. The sink may require additional planning. First of all, the bowl of the sink should be more shallow than is standard. This allows a seated individual to work comfortably there. Ideally, the faucet should use a lever for easy operation. Once again, a space should be cleared underneath for knee-comfort. This means moving the drain as far back as possible, and providing extra insulation for the water pipes and other hazards.
Appliances
Appliances, such as the dishwasher and the microwave, are the heart of the modern kitchen. The microwave can be placed at a more accessible lower level, or it can even be hooked up to a motorized lift, which will lower it for use. The dishwasher should be raised several inches off of the floor. Both the microwave and dishwasher should be placed so that they are accessible from both sides.
Other considerations
Doors and hallways should be widened a bit. This will make it easier to get a wheelchair through the doors. A wider hallway allows a wheelchair and a standing individual to share the space more easily. Cutting boards and shelves can be designed to pull out. Electrical sockets should also be placed with a wheelchair's dimensions in mind. The kitchen is a space that involves many small, important details. An experienced kitchen remodeling contractor can help you maintain the aesthetic and organizational qualities of the room while vastly improving its handicap accessibility.
save on del.icio.us
Share on Facebook