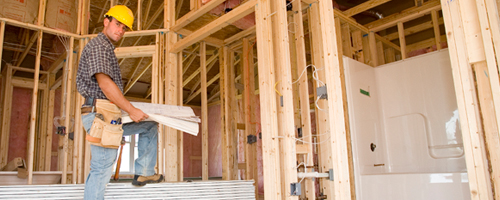 House Flipping
Helpful Hints for Successful House Flip
House flipping, or buying a home with the intent to sell it for profit, has become more of a trend in recent years with the rising popularity of home improvement shows like TLC's "Flip That House." With the potential for large profit margins and market growth, many people are eager to get in on the action.
Choosing Which House to Flip
So, how do you go about flipping a house? The first step, coupled with much planning and research, is choosing a property to buy. As you might have guessed, there's more to selecting a property to flip than just browsing the real estate section until you spot a cheap fixer-upper. Because the process of flipping a house will require a hefty investment of your own time and money, getting down to specifics and educating yourself about various factors and considerations in the market is key. Here are a few guidelines for choosing a house to flip:
Checks and Balances. Make sure your credit score is high before beginning the house-flipping process. This will help guarantee you the best financing options and the lowest interest rates throughout the project.
Know Your Audience. When looking for properties to flip, especially when new to the process, target houses in a real estate area that you are already familiar with, or can easily learn about. This will enable you to more effectively grasp the average real estate values, home costs, and pick up on deciding factors for buyers in that area. For those new to the house flipping market, playing it safe and purchasing property that's already in decent shape and is located in a decent area is highly recommended.
Real Beauty is on the Inside. Select a house where aesthetic problems constitute the main setbacks. Chipped paint, poor landscaping, stained carpeting etc. are all very easy (and cheap) problems to correct that will quickly increase the overall value of a home.
A Good Support System. Homes with major remodeling issues and structural damage are properties you should steer clear of, at least when starting out. Tasks such as overhauling the plumbing system or installing a new roof will be lengthy, difficult, and very expensive undertakings that could greatly decrease your profit margins. Think small to earn big.
Flip it Good
After selecting and purchasing a home or piece of property to resell, the real flipping work has just begun. Always make sure you have a solid grasp of the costs and risks before purchasing, but once you've taken that leap, here are a couple tips for smoother, more successful house flipping:
When in doubt about your renovation plans, there's no harm in consulting a real estate agent or a home contractor who's had great success in house flipping themselves, and knows what is currently selling in the market.
Budget, budget, budget. Know exactly what your expenses will be, plan on having money reserves set up in addition to your total cost estimates, and keep constant vigilance with them throughout the project. These expenses can include renovation costs, holding costs, interest, closing costs, etc.
Timing is everything. Being able to flip a property fast is in your investment's best interest. Have a time-line set up to track what needs to be accomplished before you can resell, and do some calculations of current real estate trends to determine the most profitable time to sell.
Focus your renovation efforts on features that will attract potential buyers, and keep it simple. Increasing "curb appeal" with simple landscaping upgrades like laying new sod can make all the difference in selling your home. Forming good relationships with home remodelers and contractors can help you complete renovations quicker and more effectively.
While timing is everything, knowledge and good instincts are close behind. Continue to educate yourself about real estate and home repair as you go.
save on del.icio.us
Share on Facebook