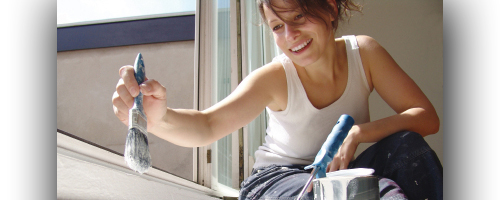 Is DIY Home Remodeling Right for Me?
DIY home remodeling has become a popular movement as homeowners look to save costs and simplify the remodeling process by handling it all on their own. However, many homeowners and professionals alike say that going the DIY route isn't always the best idea—and it could even wind up costing you more and leaving you with less! As with any home improvement project, it's wise to look into all the potential risks and costs before getting started; just to make sure it's the right move. Just as important is the decision to take on a DIY project versus having industry professionals complete the job. So which way is best for you?
What is DIY Home Remodeling?
DIY, short for do-it-yourself, is frequently considered when home remodeling projects are looming. In a nutshell, DIY home remodeling means taking on a home remodeling task by oneself or at most with a helpful friend or two. The appeal of DIY home remodeling is most often tied to less project expenses in some cases, no contractors' fees, and total autonomy throughout the project.
For homeowners that have a contracting background, or an advanced level of experience with home improvement projects, it can be a snap to take the DIY approach. However, for the majority of homeowners who aren't trained or experienced in bathroom remodeling, basement remodeling, kitchen remodeling and the like, a professional home contractor might be necessary to completing the project at hand.
DIY Basics
The planning process is where DIY-ers can really assess what needs to be done, and determine if they have the skills, the funds and the capabilities to see their goals through. Minor home improvement projects such as painting and interior decorating can often be handled by homeowners themselves. For more complex, full-scale projects like those in the following list, a professional home contractor will likely be needed:
Bathroom remodel
Kitchen remodel
Basement remodel
Bedroom remodel
Roofing
Flooring
Landscaping
Even if you have the know-how to tackle some of these larger home projects yourself, a professional home remodeler can still be helpful as a consultant, or as a subcontractor for the electrical tasks or other specialized work that's involved.
For those attempting their first DIY home construction project, these are some tips to straighten out before beginning. For one thing, DIY-ers should have their own safety equipment handy, such as eye goggles, proper gloves, face masks, tools, possibly a fire extinguisher, etc. in case they are needed. It's also recommended to study up on the individual job you're attempting, via the internet or reference books, so that you have a base understanding of what must be done and how to go about accomplishing it. Homeowners should also check and make sure that their smoke detectors, ventilation systems, and even carbon monoxide detectors are in good working order before starting a project.
It is also worth mentioning that specific permits and licenses may be required for a homeowner to even begin a home remodeling project. These are usually determined by local state, city and government regulations and must be adhered to if you want to legally build on your property in some cases. To acquire the correct permits, you must look up local residential contracting requirements and laws that apply to your project, then submit a request for the proper permits and approvals.
There is also always fees attached to this process that are non-negotiable and can become quite pricey if multiple permits are needed. It's this situation that creates another incentive to hire a contractor if you were already on the fence. They are usually experienced in sorting out permit issues, and can successfully streamline the process so that you can avoid unnecessary stress or holdups with your project. Problems with late permit payments, miscommunication about permit requirements, and lack of the proper approvals can mean a difference of months in your project completion rate.
Keep reading to learn about some more specific DIY risks and roadblocks that can occur with the individual remodeling projects listed above.
DIY Risks and Difficulties by Project
Bathroom remodel
One of the most common and worthwhile remodeling projects to undergo in your home is a bathroom remodel. But while it is one of the quickest ways to increase the resale value of your home, it is also one of the more difficult large-scale projects to complete. Full-scale bathroom remodeling holds many challenges for the DIY homeowner and home remodeler. It can include plumbing, electrical fixture installation, countertop and backsplash installation, floor installation, cabinet design and installation, sink and shower installation, etc. Nearly all of these tasks require specialized training and certification.
Another factor to consider is the bathroom remodeling cost. With an upscale bathroom remodel estimated to cost somewhere in the $50,000 range, most homeowners can't afford any extra repair or replacement costs due to DIY mistakes. With an expert bathroom remodeler, you will not only be more insured against faulty work, you will have their useful knowledge about materials and comparative costs at your disposal.
Kitchen remodel
For kitchen remodeling, updates usually include new kitchen countertops, kitchen cabinets, backsplashes, and new appliances at the most basic level. For more full-scale kitchen remodeling projects, which can cover floor-to-ceiling changes, you will once again run into a necessity for expert performance. The costs of a kitchen remodel can reach upwards of $20,000, so again, it's wise to be relatively certain of the possible costs for repairs and/or replacements if your DIY kitchen remodel doesn't go smoothly. It can be worth it to try installing the appliances on your own, but new floors, electrical fixtures and countertops are more specialized jobs that may require a contractor's help.
Basement remodel
When it comes to remodeling an outdated basement, or one that's in need of repairs, it's safe to say that again, a certain skill level is required. It will be imperative that flooring and other structural changes made to the basement be performed by contracting professionals. This is because major mistakes during a basement remodel could possibly harm the overall structural integrity of a house. It is possible to overlook certain criteria when you're new to the process, and in the case of basement remodeling, there are some mistakes homeowners just can't afford to make. A basement remodel can include home theater or home gym installation, and even new flooring, painting, lighting fixtures, wine cellar construction, and a host of other possibilities. A full basement remodel might even include a bathroom remodel as part of the entire project.
The cost of basement remodeling is another factor that will have a large effect on the potential of your basement remodel project. The cost of a midrange basement remodel can be around $60,000, so you, yourself, should be highly experienced in contracting to go the DIY route; otherwise, a professional basement remodeling contractor will be the answer.
Bedroom remodel
Another popular remodeling project for homeowners today is a bedroom remodel. Whether for the master bedroom, or for a guest bedroom, it's important to have a comfortable, updated place to sleep and relax in. Bedrooms can get the royal treatment with new carpeting or flooring, new window installation, new lighting fixtures, increased closet space, an updated interior design, new custom furniture, etc.
The cost of bedroom remodeling will depend on the scale of the project, but it can fall anywhere in the $20,000-$40,000 range, and possibly be even more expensive. Bedroom remodeling, generally speaking, is one of the simpler DIY remodeling projects to perform. Mostly because the installation and changes don't require as much electrical work or structural improvements. However, since the bedroom is a pretty important room in the house, most homeowners will want the project to be completed quickly and with a flawless, high-quality feel.
Roofing
When homeowners are considering getting new roofing, DIY roof installation and/or repair is strongly advised against. Not only is roofing difficult to install or remove, the hazards of personal injury are greater when you're working at such a height off of the ground. The need for a professional roofing contractor is really essential here for both of these reasons, and because they will help to insure that roof repairs aren't needed for quite some time—possibly not until after you've sold the house and moved elsewhere!
Roofing costs can be quite substantial. This is yet another reason why roofing should only be left to experienced roofing contractors.
Flooring
Flooring is another remodeling project that can be over-the-top, or a very understated and simple process. Depending on whether a homeowner is choosing hardwood flooring, vinyl flooring, tile flooring, laminate or linoleum, the level of skill required can vary. Flooring can be a fairly basic DIY project, or it can be a very difficult project that is best left to flooring contractors; the materials and styles you choose will determine the project's difficulty.
Landscaping
The use of landscaping to improve a home's overall aesthetic appeal is very common. Because proper landscaping requires a knowledge of land preparation, and possibly irrigation, not to mention the fact that landscaping equipment can be extremely expensive to rent and difficult to use, it is highly recommended to hire landscaping contractors to complete your project.
To DIY or Not to DIY
Speaking in general terms, homeowners will be beset by many setbacks, hidden costs, and questions throughout their DIY home remodeling project. Needless to say, it won't be simple, and if you're inexperienced in the particular ins and outs of the job you've taken on, you run the risk of ruining what you've committed substantial time and money to accomplish. It isn't fair to say that homeowners can't complete the above-mentioned jobs without professional help, but in most cases, they will be better off going with a licensed home contractor in their area.
The best way to ascertain if you are up to the task at hand is to, basically, break down every aspect of the project that needs to be completed, and consider each part in terms of your ability to accomplish it without help. If you find that there are things you don't trust yourself to complete flawlessly, or that there are many things you need professional assistance with, then it's acceptable to hire a contractor to help you see the project all the way through. To get up to 3 free estimates from local remodeling professionals, contact our SignatureContractors' representatives today!
save on del.icio.us
Share on Facebook