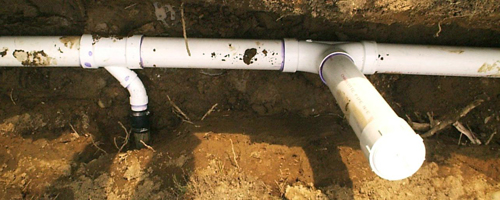 Power Rodding vs Hydro-Jetting: Extreme Pipe Cleaning Solutions
Any home built in the 1980s or earlier is highly susceptible to recurring drain and sewer pipe clogs and sludge issues. This is why it's all the more important to get your sewer pipes thoroughly cleaned and cleared at least once a year. Obviously, this is the sort of work that a licensed plumber should be called on for. But in order to get the most value for your investment, it's critical to turn to a plumbing contractor that has experience tackling the toughest types of sewer jobs. Generally speaking, this means a plumber well versed in power rodding and hydro jetting.
What Is Power Rodding?
One of the old standards in drain cleaning, power rodding uses a strong steel cable to target and break through blockages deep in pipes. This snake-like, electric-motor operated power rod features a sharp set of "teeth" at its end, which can be used to cut through sludge, tree roots, or any other potential blockage. Power rodding was a revolutionary advancement in the modern plumbing industry, allowing professional plumbers and contractors unprecedented access to virtually any segment of a home's drainage and sewer systems. With power rodding, a blockage that may have required a massive, multiple-day project can now be completed in a matter of hours or even minutes, saving home owners potentially thousands of dollars in the process.
What Is Hydro Jetting?
Like power rodding, hydro-jetting is an advanced method of pipe draining that can often prove a welcome alternative to a major sewer line replacement job. Unlike power rodding's steel cutting technique, however, a hydro-jetter harnesses the power of good old H2O to safely dislodge blockages, clear pipes, and send the broken down debris downstream and out of your system. Compared to traditional snaking or everyday Roto Rooter techniques, hydro-jetting is particularly powerful. The hydro-jetter's specially designed hose and nozzle allow for extreme pressurization, allowing water jets to blast forth at a rate of up to 3,500 psi when activated within a pipe. This means that even the toughest of pipe clogs—like the ever dastardly tree root—can be cut away and removed by the jet stream in most cases (in more serious cases of root development, a pipe replacement may still be required).
How Do You Know When a Hydro-Jet or Power Rodding Might Be Needed?
Aside from having the always wise, annual sewer pipe cleaning, you might sometimes need to call on a plumber to handle an immediate, obvious issue with your pipes. If, for example, you often hear unusual sounds coming from your floor drain any time water is being run (a sputtering or gurgling), odds are fairly good you have a blocked pipe. The same is sometimes true when a toilet or bathtub start taking unusually long to drain down. It may be a simple blockage near ground level (a Drano or Liquid Plumr job), but it may also be a more serious problem with your drainage system. If the usual, everyday fix-it methods offer no prolonged results, it's probably time to call in a plumbing contractor to assess the situation.
Power Rodding vs. Hydro-Jetting
Once the problem has been identified by your plumber, he'll need to decide which means of drain cleaning is preferable to tackle the clog in question. These days, the hydro-jet has generally gained favor as the drain cleaning technology of choice for many plumbing and sewer contractors. Delivering as much power as the electric power rod with less need for manual precision, hydro-jetting has already replaced power rodding in some plumbing companies. With others, however, the best results have been experienced with a combination of the two methods, with hydro-jetting proving an effective complement to the tried and true power rodding approach. Regardless of which type of pipe cleaning your chosen plumber prefers, one thing is for sure: the plumber's life-- and the lives of everyone who needs them—has been made a little easier thanks to power rodding and hydro-jetting.
To learn more, or to set up a free assessment and estimate from a local plumbing contractor, contact us today!
Featured power rodding and hydro-jetting expert: Miller Plumbing: Downers Grove, Illinois.
--Chip Baddaladucci
save on del.icio.us
Share on Facebook