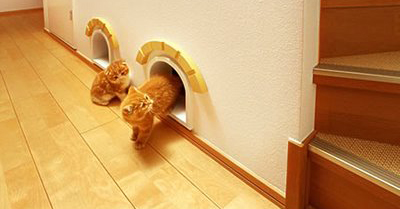 Gone to the Dogs: Converting a Spare Room Into a Pet Room
Our pets have become members of our families, so why not give them a bit of living space they can call their very own? By designing a room just for your dog, cat or bird, you can create an environment to keep your favorite four-legged or winged friend safe, healthy and comfortable. We have tips to create a pet room that Fido or Fluffy is sure to love.
Choosing a Space
Whether you decide to convert a current room, or build an entirely new space, it is helpful to hire a contractor for the work. This ensures the room is properly renovated to provide a safe environment for your pet. Issues like faulty wiring and drafty windows may lead to injury or sickness – two problems you don't want to deal with. If the contractor has renovated other rooms for this purpose, he may have suggestions to help you make your room as pleasant for your pet as possible.
Preparing the Space
Once you have a space in mind, clear the area of any potential hazards like electrical cords or items that could make your pet sick. Flooring should be something that is easy to keep clean, such as vinyl or ceramic tile. You can always add throw rugs and bedding to keep your pet warm and comfortable. If you must have carpeting in the space, choose a style and material that doesn't show dirt and will clean up easily. A contractor can install the flooring of your choice to ensure a firm foundation for your pet.
Dogs and cats enjoy a window to look out of when they are confined during the day. If the window in your pet room is too high for your furry friend, ask the contractor to build stairs and a platform that allow your pet to reach window level. Cats also enjoy a climbing, so install a few platforms at various heights to give your kitty a workout. If you will be housing sensitive creatures like birds or reptiles, weatherproof the room to maintain a consistent temperature. You might even want your own thermostat installed to ensure your pet remains comfortable day and night.
Just for Dogs
Dogs appreciate having a comfortable place to sleep, so add a pet bed or a dog-sized sofa to your pet room. Older dogs benefit from orthopedic beds that offer relief from stiff joints. Dogs also enjoy a few toys to play with, especially if they will be left alone for a period of time each day. Add a small container to keep your dog's possessions tidy. Make it low enough that your dog can access his stash when you are not around to help him.
Just for Cats
A litterbox becomes a smelly addition to any room if it is not cleaned out regularly. Cut down on odor by building a structure around the litterbox that is easy for your cat to get into and out of. With the help of a contractor, you can create a miniature outhouse or cottage that makes a stylish addition to the room while serving an important function. Cats also need scratching posts to keep their claws in good health, so place a couple strategically around the room for his use. This might also cut down on him scratching up your furniture or curtains!
Birds and Reptiles
Birds and reptiles require a safe environment with a consistent temperature. Avoid live plants, since many species are toxic to birds. Cover reflective surfaces like televisions or mirrors, since birds on the loose may fly into them. While reptiles enjoy basking in direct sunlight, birds can become overheated with the sun shining on them. Keep windows covered for birds and add artificial lighting to the space instead. Reptiles that don't get enough heat from the sun can also use artificial heating units to keep them sufficiently warm.
Creating a special place for your pet provides him with a safe, comfortable place when you are not with him. With the help of a contractor, you can build a room that is safe and stylish for your pet – and your home.
save on del.icio.us
Share on Facebook