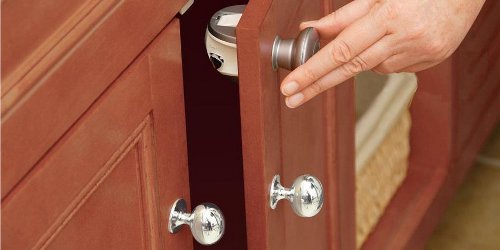 10 Simple Ways to Make Your House Safer
Your home is your castle. It's were you live, eat, sleep, and raise your family. It should be a safe, comfortable place where you can achieve true peace of mind. But unfortunately, accidents happen, and an estimated 18,000 Americans die from home-related injuries every year. Here are a few simple ways to make your home safer for yourself as well as the ones you love.
1. Sturdy Doors – The FBI estimates that each year over 5,000 property crimes are committed in cities per every 100,000 residents, with many break-ins involving forced entry through doors. Experts recommend all exterior doors be made of sturdy insulated steel, fiberglass, or solid core wood. Also be sure to install locks with one inch deadbolts.
2. Test for Lead Paint – It is estimated that around American 19 million homes have lead-based paint hazards. Lead may exist in any home built before 1978, so don't leave anything to chance. Most major hardware stores sell instant-result lead testing kits with extra swabs for multiple room evaluations. Always be sure to test for lead before beginning any major home renovationproject as lead is extremely hazardous in dust form.
3. Safer Stairways – Accidental falls are the leading causes of death in the home with an estimated 6,000 lives lost each year. It's important that every stairway be well lit, and experts recommend installing extra traction strips on uncarpeted staircases. Handrails should be sturdy and secure, and any loose steps or missing rails should be fixed immediately.
4. Outdoor Lighting – Outdoor lighting is one of the easiest ways to simultaneous increase your home's security and curb appeal. Motion detector and timer lights are cheap and can be installed in under an hour. More elaborate and eye-catching backyard lighting can also be installed with centralized control so you can switch from motion detection to mood lighting at the click of a button.
5. Cabinet Safety Latches – If you have children or pets in the house it's important that all cabinets storing harmful materials be fitted with safety latches or combination locks. Make sure to replace all chemicals immediately after use and never re-use containers that once stored dangerous chemicals.
6. Grab Bars – No matter the age of your family members, installing grab bars to assist balance in slippery tubs or showers is a smart move. Make sure grab bars are fastened properly into solid blocking installed behind walls or use manufacturer approved anchors. Poorly installed grab bars can lead to the worst falls because they can give way when people are pulling their full weight on them. For the same reason, towel racks should never be depended on for balance.
7. Turn Down Your Water Heater – Water as warm as 120 degrees can lead to accidentally scalded skin. Especially if you have children of your own, or frequent visits from guests who do, lower the temperature directly on your water heater. Not only will this make your home safer, but it will cut back on energy costs. For every ten degrees you lower you will save an average 3-5% in the total cost of your energy bill.
8. Buy a Radon Kit – Radon is a dense and radioactive gas that is created from decaying uranium found in most soils. Improperly sealed basements can accumulate tasteless, odorless radon vapors known to cause lung cancer at rates second only to cigarette smoke. Radon detection kits are available at most major hardware stores and online. If radon is detected, there are plenty of affordable radon reduction systems and basement remodeling options to keep you and your family safe.
9. Install a Flexible Connections to Gas Appliances – Earthquakes, floods, and settling foundations can cause your appliances to move without warning. Installing a flexible connector ensures that a minor shift won't cause a dangerous natural gas leak within your home. Always be sure that gas sources are in the same room as appliances, and never reuse gas connectors or link connectors together to create a longer connector.
10. Address Numbers – Having your address easily visible on your home can make a dramatic difference in an emergency situation. EMT's often lose precious minutes getting help to the injured simply because they can't find the house they were called to. Invest in shiny metal address numbers for your house that can easily be seen from the street. Better yet, buy a stencil kit and paint your address on the curb as well.
With these tips you can ensure that you and your family live safely and happily in your home. If you're interested in other safety tips or want to explore home renovation options, contact us today. Our representatives will schedule you a free and informative consultation with certified contractors in your area.
save on del.icio.us
Share on Facebook