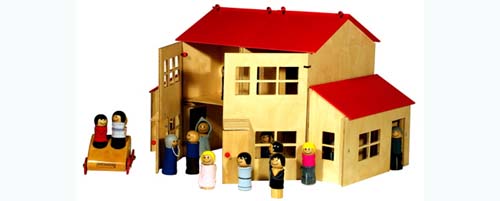 Home Renovation Trends for 2011
With the new year comes a fresh start, and January is a great time to get started on home renovation projects, as out-of-season jobs can often come easier and at a lower cost than summer work. With this mind, many people are already making lists of the changes they hope to make to their homes in 2011. However, with the economy still struggling, it can be difficult to commit to a major home remodeling project-- even at discounted rates. So what sorts of projects are people putting at the top of their lists this year? Well, compromises in cost clearly needn't mean compromises in aesthetics. Signature Contractors presents the home renovation trends of 2011.
The most important goal in home renovation is to incorporate trends with staying power, not ones that will become dated as soon as construction ends. With this concept in mind, more and more people are turning to universal design and durability. Since the economy has forced many to downsize and scale back, smaller houses have become commonplace. Rather than expanding their property, people are knocking down internal walls to create open floor plans, which give homes a roomier feel and more space to work with. This design concept is extremely popular, and home renovation and contracting experts believe it will stick around for a long time.
For the longest time, mammoth, gourmet kitchens were the hottest remodeling trend. In 2011, renovations are less grandeur and more simplistic, especially in the kitchen. Minor kitchen renovations are becoming more common, and home owners are doing everything from replacing cabinets and handles to updating appliances and countertops. Full remodeling projects tend to run a high price tag, so frugal spenders are looking for ways to improve their kitchen without emptying their wallets.
As homes are getting smaller, people are finding ways to make them more cozy and less cluttered. Rather than go the minimalist route, people are opting for warmer, earth tones. It's not exactly a rustic feel, but rather a combination of contemporary design and calming colors. People are also adding oil-rubbed bronze, aged bronze and distressed hardware to their homes, which also contributes to the warming trend.
When it comes to big home renovation projects in 2011, it's all about bathrooms. According to professionals, it's a lot cheaper to renovate a bathroom than a kitchen, so home owners are taking the opportunity to upgrade their showers, toilets, sinks and tubs. Not only are they replacing grungy tile and reapplying grout, but they are also updating their bathrooms to make them more spa like. Dual shower heads, whirlpool tubs and even steam attachments are just some of the bathroom renovation trends of 2011.
In a world ruled by technology, many homeowners are making changes that will improve the workability of their home electronics. Tech-savvy homes are steadily growing, and there are simple renovations one can do to make their homes technology friendly. With broadband being the main source of internet and television, installing a conduit will help run wires throughout the house from wherever the cable or satellite enters. Also, electronic closets are a convenient way to store all household entertainment gear and minimize clutter. Another popular renovation is putting speakers around the whole house, including outside on the deck or patio.
Going green has been a trend the last couple years, and it will continue to be a home renovation trend in 2011. People are installing energy efficient windows, lighting and appliances, as well as tank-less water heaters. Using recycled and sustainable products such as bamboo flooring, grass thatched roofs and bark siding are just some of the ways that people are helping the environment while simultaneously improving the look and feel of their house.
While younger generations are looking to expand their homes to prepare for bigger families, Baby Boomers are also performing expansions to prepare for the future. Many people want to "age in place," so their homes need to be accessible for when they grow older. This does not mean installing ramps or elevators, but rather taking smaller steps like widening hallways and doorways, adding step-in showers and installing extra lighting. Although Baby Boomers and Generation Xers may not need these right now, they are functional for any age group, and will come in handy in the years to come.
So if you're planning a home renovation project this year, consider some of these exciting trends for your abode. Many of them can be done at a reasonable price and in a short amount of time. Before construction gets underway, it's important to consult with a certified contractor about the renovation projects you have planned. A professional contractor can evaluate your home, discuss all your home improvement goals, provide you with a detailed layout of the final result and give you an accurate cost estimate. To learn more about 2011's home renovation trends, or to schedule a personal consultation with a skilled contractor in your area, contact our offices today! Happy renovating!
image courtesy of DeZeen
save on del.icio.us
Share on Facebook