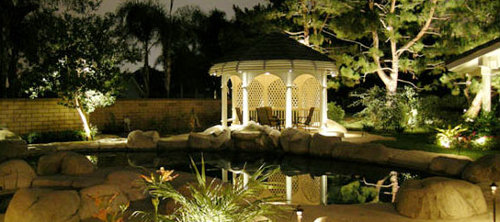 8 Dramatic Backyard Lighting Tips
Lighting your back or front yard is, like spices in a meal, a case where less is sometimes more. There is the temptation to flood the area with lights, but unless you live in a particularly high-crime area or have one with unusually aggressive raccoons, too many lights can look garish and can ruin a good night. But there are ways to have safe and practical lighting without making a new day. These can also dramatically improve the look of your house.
FLOODLIGHT
OK, so you want at least one brightly lit area, maybe by the garage or front door. Makes sense, and is a smart thing to do. A floodlight will shine a large, stadium-like light on a wide area. What you can do with these is set them up with a motion-sensor so they aren't on all the time, dimming stars and keeping your neighbors awake. They will turn on when you them to or when other people don't want them to. Motion sensors can usually be set up with a timer, so they don't even think about turning on until after sunset.
BACKLIGHTING
This is where it gets a little more interesting. Backlighting is an old Hollywood trick used to make something appear a little unreal, bathed as it is in a crepuscular light. Imagine an angel coming in through a window, or one of those Italian chiaroscuros. This is what you want for a tree, or maybe some lawn statuary or topiary. You place the light in the ground, using a well light, between your object and a wall. This creates the silhouette effect that you were shooting for.
SHADOW LIGHTING
This is a neat trick. For this you are going to have the object you want lit between a wall and a upward-facing well light. This will cast the shadow of the object on the wall, creating an interesting dimensional effect. The closer the light is the more distorted the shadow, so it is a matter of taste. This works great with trees, and has a creepy effect with statuary. But if it is Halloween, or that is your year-round thing, we're not here to judge.
UPLIGHTING
There is a lot you can do with uplighting. As I bet you've already guessed, uplighting is done with an ground-based light pointing upwards. This is done specifically for effect, as it won't really make it safer to walk at night. If you have an interesting tree (say with orchids) that you want to spotlight, or something along those lines, this creates a dramatic and fascinating effect. Of course, you can go many ways with this, including a more practical path-lighting (with smaller lights). If you have a pond or a fountain, look into submergible lights. Light usually breaks on water; it is fascinating to see it break up through water.
DOWNLIGHTING
This is one that can also be used to practical and/or aesthetic purposes. Hung your house, downlighting shines a spotlight on your front door. From a tree, it can brighten a path. An interesting thing to do with these are to have several not-terribly-bright lights hung from several trees, lighting (or even creating) a path. This has practical value, but it can also appeal to your sweeter, poetic side by mimicking the shattering light of a tree-blocked moon.
MOONLIGHTING
I know we said downlighting can look like the moon if you use your imagination, but this is one specifically designed to mimic our orbital buddy. What you want to do is place an omni-directional light in a shrub or a tree, concealing the light source. The light spreads from this creating a lunar glow. A fun game is convincing your dimmer friends that it actually is the moon.
LIGHTING A PATH
This one is all practical, but it doesn't have to be without art, either. A nice thing to do with path lighting is to have a series of short lights, with the illuminated little pools almost mimicking steps. You'll see that people subconsciously either walk in every pool or avoid them. It gives a pattern to a walk, and if the light is soft, creates a subtle and silent beauty.
SPOT LIGHTS
Spot lights generally aren't very subtle. Right now you might be thinking of a Hollywood première, or a prison break, or a movie about a prison break. But a tasteful spotlight can be used to highlight a flower bed, a pond, or for a more utilitarian but no less practical purpose, a deck or patio. This is something you can discuss with your patio contractor. You don't need a floodlight to see. A spotlight can provide enough light without blinding everything else.
What these all have in common is a degree of difficulty. Outdoor lighting generally isn't already installed. It involves running wires from your house to the outside areas in a way that can't be seen (usually trenches) and having that wire- whether it goes straight to the light or to an electrical box- be able to power several different lights. All these thing should be planned when you are discussing your backyard with your certified landscape technician. This involves planning and care. A qualified electrical contractor can help you at all steps.
--Mitch Logan
save on del.icio.us
Share on Facebook