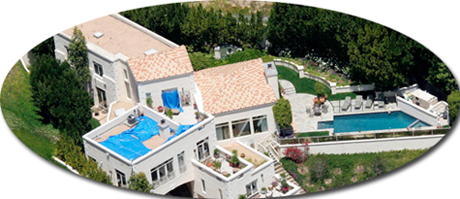 Top 10 Celebrity Homes For Sale in 2010
The recent dramatic changes in the housing market have negatively impacted Americans in all income brackets, including the super wealthy and even celebrities! Thus far in 2010, celebrity houses for sale keep popping up in real estate listings—occasionally with heavily slashed asking prices!
Even celebrity foreclosures are on the rise! Last year, wealthy celebrities like Wyclef Jean, Jose Canseco, Lenny Dykstra, Nicholas Cage and heiress Veronica Hearst found themselves in disastrous mortgage debt alongside hundreds of thousands of average-income homeowners. Even Michael Jackson—before his untimely death in 2009—was dangerously close to losing Neverland Ranch.
See which celebrity homeowners are trying to rid themselves of some seriously swanky properties right now! Each celebrity house on our list tops $1 million, and features some truly stunning amenities. Most of us will never be able to purchase a celebrity mansion, but by getting an inside look at what several A-listers looked for in their homes, you can gain some new home remodeling ideas to make your own home a little more luxe!
Top 10 Celebrity Houses for Sale*
*this list is ranked by market price, with 1 being the most expensive celebrity home, and 10 being the least expensive celebrity home.
1) Leeza Gibbons/Joan Crawford's Hollywood Hills Estate: $5,850,000

Originally priced on the market at over $8 million, Leeza Gibbons of talk show fame has reportedly been trying to sell this 11,137 square foot Mediterranean mansion for a few years. Originally built in 1926, Joan Crawford was the first celebrity to reside here. Situated on over an acre of land, the Leeza Gibbons/Joan Crawford mansion is 3 stories, with 7 bedrooms, 8 bathrooms and a private pool complete with grotto, sauna and spa. A 21/2 story guest house is also on the property. Other amenities include:
Master bedroom with private sun deck
Koi pond
2 fireplaces
Closed circuit security system
Central heat and air conditioning
Marble flooring
Covered 4-car garage
2) Halle Berry's Beverly Hills Villa: $5,000,000

Halle Berry's rustic, 2,274 square foot home in Beverly Hills is a 2-story with excellent views, 2 bedrooms, 2 bathrooms and is surrounded by beautiful gardens and landscaping. Other amenities of Halle Berry's villa retreat include:
Natural stone and hardwood flooring
Community security features/gated property
Central AC and heat
Tile roofing
Vaulted ceilings
2 fireplaces
3) Dr. 90210/Raquel Welch's Mediterranean Mansion: $4,395,000

60s sex symbol Raquel Welch owned this Beverly Hills estate from 1997-2005, at which time she sold it to Dr. Robert Rey from the "Dr. 90210" reality show. This 8,000 square foot, 3-story mansion features a guest house, an outdoor pool with patio and a spa, and has unique decorative touches like leopard-print carpeting. Other features include:
6 bedrooms
3-car garage
Intercom system
3 fireplaces
Central heat and AC
Hardwood and stone flooring
Tile roofing
4) Glenn Beck's Connecticut Colonial: $3,999,000

In New Canaan, CT, Fox News conservative Glenn Beck is trying to unload his 8,720 square foot colonial-style estate. Having purchased the mansion for about 4.25 million in 2005, Glenn Beck won't be raking in any profit from this sale. Beck's 6 bedroom/8 bathroom colonial features natural stone fencing, an on-site well water system, and even a barn to help complete the estate's idyllic charm. Other features and amenities include:
4 fireplaces
In-ground swimming pool
Whirlpool
Wet bar
Wood shingle roofing
Zoned temperature control
Vaulted ceilings
Walk-out basement
Hardwood flooring
5) Sammy Davis Jr./Judy Garland's Los Angeles Mansion: $3,850,000

Icons Sammy Davis Jr. and Judy Garland both lived in this 6,700 square foot LA mansion at one time. Situated in the Hollywood Hills area, the home has incredible views of the sunset strip and downtown Los Angeles. Newly renovated, the 3-story estate includes 5 bedrooms, 7.5 bathrooms, hardwood floors and a home theater! Other amenities of the former home of Sammy Davis Jr. and Judy Garland include:
6) Rob Schneider's San Marino Cottage: $3,600,000
Comedian Rob Schneider of SNL and "Deuce Bigalo" fame, recently put his beautiful 4,690 square foot San Marino estate on the market for $3.6 million. Schneider's 2-story San Marino mansion was built in the 20s and resembles a European country cottage. Other amenities of Rob Schneider's 4 bedroom/4 bathroom San Marino home include:
Natural hardwood and stone flooring
Koi pond
Saltwater swimming pool
2 fireplaces
Shingle roofing
Dormer windows
Tower staircase
Arched doorways
Gravity heating system
7) David Boreanaz' Los Angeles' Luxury Home: $3,249,000

Former "Buffy the Vampire Slayer" star and current "Bones" actor/executive producer, David Boreanaz is trying to sell his beautiful LA home to kick of f the new year. Boreanaz' 3 bedroom/3.5 bathroom estate features Sunset Strip vistas and a state-of-the-art outdoor entertaining area. Additional features of David Boreanaz' 3,152 square foot LA home include:
Guest house
Heated pool and spa
Media room
Outdoor kitchen and firepit
Vaulted, exposed wood-beamed ceilings
Central heat and air
8) Charlie Sheen's Los Feliz Mansion: $3,197,000

Even though actor and reputed bad boy Charlie Sheen purchased the Los Feliz mediterranean estate not long ago (in 2007), Sheen has put it back on the market. However, Charlie Sheen's domestic violence troubles with wife Brooke Mueller and his related arrest are probably weighing heavier on his mind than the sale of his estate. Sheen's 4,179 square foot, 2-story home is in the Los Feliz area of Los Angeles and is nearby to the Griffith Observatory. The house has 4 bedrooms, 4.5 bathrooms, and features beautiful canyon views. Other amenities of Charlie Sheen's home in Los Feliz include:
Outdoor courtyard and scenic terrace
Library
Wood-beamed ceilings
Arched doorways
Swimming pool
Tile roofing
2-story foyer
Hardwood and stone flooring
9) Nicholas Cage's French Quarter Estate: $2,900,000

Nicholas Cage's near bankruptcy and financial ruin has been covered in recent news, and he has been attempting to sell some of his real estate to lessen debts. By 2009, Cage reportedly owned 15 mansions and 2 castles in total! Nicholas Cage's New Orleans estate, the LaLaurie Mansion, is a decadent 10,284 square foot home in the French Quarter, originally built for French royalty. The 3-story palatial mansion is complete with beautiful architectural touches throughout. Features of Nicholas Cage's New Orleans mansion include:
6 bedrooms
7 bathrooms
Hardwood flooring
Slate roofing
Brick patio
Widow's walks
Fireplaces
Central AC and heating
10) Matthew McConaughey's Hollywood Hills Retreat: $1,595,000

Once dubbed the "Sexiest Man Alive" by People Magazine, Matthew McConaughey recently sold a few of his Hollywood Hills properties—perhaps in preparation of purchasing a more family-friendly residence to better accommodate McConaughey's new son, Levi, and girlfriend, Camila Alves. Now one of these McConaughey bachelor pads, a 3 bedroom/3 bathroom ranch-style abode, is up for grabs again! Features of McConaughey's 2,303 square foot Hollywood Hills home include:
Swimming pool
Scenic patio
Multiple fireplaces
Central heat and AC
Community security features
Celebrity Homes for Sale: Honorable Mentions
Jermain Dupri's home in Atlanta, GA: $1,300,000
Heath Ledger's home in Los Angeles, CA: $3,695,000
Neil Patrick Harris' home in Studio City, CA: $1,149,000
Latrell Sprewell's home in Purchase, NY: $3,800,000
Jon and Kate's home in Elizabethtown, PA: $299,900
Johnny Knoxville's home in Los Angeles, CA: $1,895,000
If you'd like to implement a stylish celebrity home feature or amenity, like those listed above, in your own home, contact SignatureContractors today for assistance! We'll not only connect you with a licensed home contractor specializing in the service you want, but we'll even help you attain 1-3 free estimates for your project!
save on del.icio.us
Share on Facebook