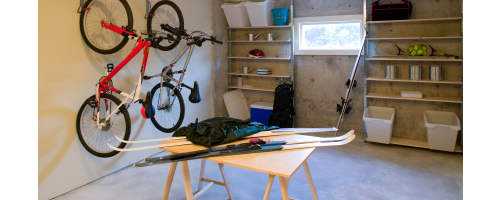 Garage Makeovers
Browse Our National Network of Garage Remodeling Contractors
If there's one area of our home that often gets overlooked, it's the garage. As a multi-purpose space that connects to the house, the garage is used for everything from storage, to organizing tools and accessories, to completing handyman projects.
Unfortunately, some of us have so much going on in our garage that the car won't even fit anymore; even though the garage was first and foremost a car port. This has led many people to rethink the setup of their garage, consider a new garage makeover, or decide to build an add-on to their existing garage.
So how do you remake your garage to be the ideal space for your personalized needs? First, you'll need to determine what you will be using your garage for; then you can get started with space planning.
Is it just a place to park the car? Are you interested in setting up a work bench area? Do you need more room for your gardening supplies? Is it a designated pet hangout? These decisions will help to determine the role your new or remodeled garage will fill for you and your family. Let's take a look at these common goals for garage makeovers, and go over some ideas for effectively implementing them.
Maximizing Your Garage Storage Space
First off, clear your garage of all extraneous clutter or trash. Consider your garage's height, width, and depth before purchasing or installing storage equipment or shelving units. Take appropriate measurements of the space to get an idea of what is possible, and to better create your custom organization ideas (hint: most garages have high enough ceilings to enable easy overhead storage of bulky, lightweight objects).
When it comes to choosing the storage units, take into account the type of equipment or objects that you will be storing in your garage before purchase and/or installation. Most people find that well-organized shelving units, cabinets and wall storage racks are a sufficient means of increasing garage storage space. Among these storage options, there are several choices of material and style to choose from:
Shelving: particleboard, pine, plywood or wire


Slatwall or Slotwall Panel Systems: PVC or CPVC plastic, or MDF (medium-density fibreboard)


Wire or Metal Grid Systems


Storage Bins: plastic or metal


From Garage to Living Area
Some people are turning their garages into more than just a room to store power tools, family heirlooms and Christmas decorations; a growing garage makeover trend is to remodel the space as a living area. Whether you want to make your garage double as a home office, a den to relax in, or a personal home gym, there are many possibilities in garage design and remodeling to accommodate your makeover plans. Here are some tips for making the switch from dingy garage to warm, welcoming living space:
You will need to effectively insulate the ceiling, walls and floor of your garage to create a level of comfort and temperature control that's on par with your home interior.


By making over that unfinished concrete flooring and finishing it with paint, vinyl mats, epoxy, tile or sealant, your garage will immediately have a more polished, homey look to it.


A big downside to most garages is the lack of light. By installing windows in the walls or garage door and by switching out that solitary light bulb for more modern light fixtures, you can add class to your garage in a jiffy, as well as improve the space's natural and artificial lighting schemes.


Once the construction is finished, interior design and custom furnishing choices will help to finalize your vision of a garage living area.
With a playful paint job and some toys, your garage could convert into a kid's playroom or nursery; with a desk and the appropriate electrical and/or cable connections, your garage could become the perfect office environment. The possibilities are endless. Some people may want a garage makeover to create an extra guest room, or an activity center for working on personal tasks and hobbies such as painting, music rehearsal, training the family dog, etc.
No matter what your garage makeover plan is, it might benefit you to seek out the help of a professional home contractor with experience in garage design and construction. They can make recommendations based on new garage trends and your personal needs, and complete your garage project successfully with their knowledgeable expertise.
Contact us today to find a professional garage remodeling contractor in Chicago, IL; Trenton, NJ; or Marietta and Atlanta, GA!
save on del.icio.us
Share on Facebook