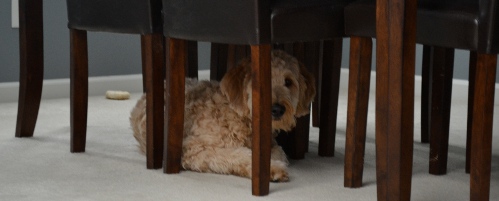 Dog Friendly Home Remodeling Tips
by Kate Blair
After a while, your dog becomes less like a pet, and more like a four-legged member of the family. So when it comes time to remodel or redecorate your home, why not take the dog's needs into consideration? The more you plan ahead about the spaces and utilities the dog requires, the easier it becomes to integrate them into the design of a home. Try looking at your home from the dog's perspective, and think of the things that would set his tail a-wag. With some careful planning, it is easy to create a space that is beneficial to both you and your dog.
Dog Friendly Flooring
From a practical standpoint, flooring is one of the biggest considerations for a pet owner who is considering remodeling. A dog's claws can do harm to hardwood floors. But carpeting is not a good idea if you are still in the process of training your dog, or plan to do so in the future. Linoleum is probably the best option, as it is both mess and scratch resistant.
Area rugs are a great option if you are having difficulty parting with your carpet. Area rugs are easily cleaned, but allow some color accents to remain on top of the linoleum. It is important to ensure that whatever flooring is used for the staircase will be paw-safe and non-slippery.
Spaces
For various reasons, many dog owners require gates to be set up in their homes. If you know there is a place in your home where your dog cannot be allowed to go, it is advisable to design a gate into your new look, rather than plugging up the hallway with an unattractive store-bought plastic option. Some dog lovers have been known to create rooms especially for their dog to lounge in, accessible by a small, attractively designed doggy door. A doggy door installation can be simpler and more affordable than you might expect, with many remodeling contractors able to adapt existing doors into effective doggie doors.
Dog Friendly Windows
Dogs need to be able to oversee their territory, which makes them drawn to the windows. The dog doesn't have many responsibilities, but one of them is barking at all of the other dogs walking by. Consider creating a small step for easier viewing access, or even putting in a wall with windows that are lower to the ground.
Food and Water
Just like you, your dog needs food and water multiple times a day. In most homes, these dishes are left on the kitchen floor, where they are almost always in the way. One idea is to create special cabinets and drawers for you dog. A bottom drawer in the kitchen can be designed especially to house the food and water dish. This also leaves the dishes at the perfect height for your dog to enjoy its meal. Pulled out to sate your hungry pet, closed when the meal is finished, a food drawer is an excellent way to utilize kitchen space.
From simple to extravagant, there is a wide range of ways to integrate dog-friendly elements into any living space. To learn more about your options or to get a an assessment from a local, licensed home contractor, contact us today!
save on del.icio.us
Share on Facebook