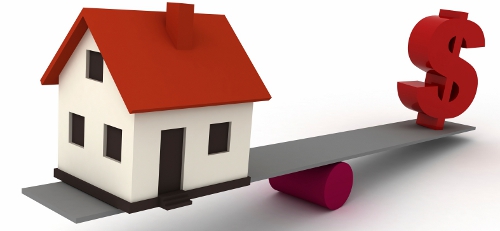 Housing Values Seem Set to Rebound
by Mitch Logan
A new report by Zillow, the online real estate giant, estimates that housing values have hit bottom and are set to rebound. "Hitting bottom" is never a good thing, but what it means in this case is not that they are as low as could possibly go, but that the cratering of prices in the wake of the 2007-2008 collapse has ended, and value is set to start going up.
The rise in value isn't particularly dramatic. The 2nd quarter (April-June) of 2012 showed a .2% rise over the same period last year. Yes, with that number, we can hear the corks going back in the champagne and the slide-whistles comically indicating disappointment. But this is the first rise since 2007, and a rebound isn't going to be dramatic and instant- if it were, it would be a bubble. This has to be a slow growth, if it is going to resemble a healthy growth.
According to Zillow Chief Economist Stan Humhpries, this recovery is coming despite lower-than-expected job growth, which indicates that "it has some organic strength of its own." This is important, because it indicated that values might no longer be derived entirely from instant market fluctuations.
Of course, there are still potential obstacles. Humphries predicts that there will be another spate of upcoming foreclosures. That of course is a personal tragedy for those in the houses, but the impact will also be felt on the market. There will be a glut of cheap houses entering the marketplace, and because of that values will diminish. But this is expected to be just a glitch, and not something that will be felt widely or deeply or for very long.
The good news on the foreclosure front- and this is all relative, of course- is that, regardless of the coming mini-glut, foreclosed houses have dropped from 7.9 per 100,000 houses to 5.8. This is cold comfort if you are on the wrong end of an eviction notice, but overall this is great news.
In addition to these numbers, Zillow projects a 1.1% increase in home values over the next year, and they aren't the only outfit with such a rosy outlook. The National Association of Realtors says that home prices (which are distinct from home values) have increased for the third month in a row, with June prices a robust 7.9% higher than last year.
If you are a homeowner, this is great news, but that doesn't mean this is the time to be passive. There are market-independent ways to increase the value of your house. With an improving economy, more people will look to buy houses, so there are a few things you can do to help your chance it what could be an increasingly-competitive market.
Home improvement are almost certainly a must if you want to increase the value of your home, and improve your selling price, in what is still a relatively down market. You can't expect another bubble to artificially inflate your price, so get some work done now. Even if you aren't thinking of selling, the remodeling and repair you do know will not only increase your future earnings, but it will make your house more pleasant to live in. Here's a few of the big-ticket procedures.
KITCHEN REMODELING
OK, admittedly, this is a pretty big one. But cooking has been elevated in America today, and TV has shown people that dinner can be more than just throwing a roast in the oven or ordering a pizza. People want to cook, and to cook right they need bigger, more modern kitchens with lots of countertop space and an easy workplace flow. Qualified kitchen remodeling contractors can help bring your kitchen into the present, with an eye on the future.
BATHROOM REMODELING
In addition to a fancy kitchen, homeowners are on the lookout for a big master bathroom, usually off the bedroom. People want a large shower, maybe a Jacuzzi tub, lots of mirrors, and just generally a lot of room. Some people are even looking for televisions. You don't have to do everything, but even some minor renovations make a big difference. Contacting a certified bathroom remodeling contractor will make everything go much more smoothly.
BASEMENT REMODELING
This is one you've been thinking of for a long time. You want your basement to be more than a repository for old paint cans, dusty exercise bikes, and broken Christmas decorations. It is a lot of wasted space. But it doesn't take much to turn the basement into an office, another bedroom or two, a second kitchen, a sports-watching haven, a bar, or all of these. A basement remodeling contractor can help make any of these dreams come true.
So there are things you can do to help your house increase its value. Sitting back and watching the percentages tick slowly up is far from the worst thing you can do, but getting remodeling down before the market shoots back up again can save you money in the short term and earn you some in the long run.
save on del.icio.us
Share on Facebook