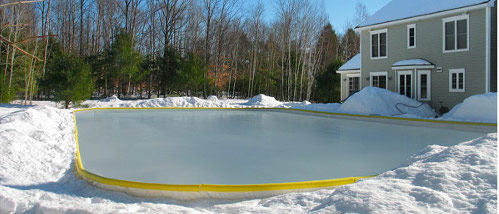 Home Remodeling Ideas for the Hardcore Hockey Fan
You're a huge hockey fan. You know there is going to be icing called before the ref even spots the blue line. You get into heated arguments about whether Malkin or Crosby is more valuable to the Penguins- and you hate Pittsburgh. You own, or have owned, several octopi. You can name the Original Six on one hand. So you are the Ultimate Hockey fan. So how do you show it? Here are five tips to make your house a Madhouse.
The Frozen ManCave
Televised hockey has come a long way. HDTV provides a picture so clear that even a hockey novice will have no trouble following the puck as it blisters off an Ovechkin slapshot or is zipped around a crisp Red Wings' powerplay- without the need for the lit-up puck trail, thank goodness. So you can turn a boring room into a home theater, with a huge TV, perfect for watching your team move through the season, chasing Lord Stanley's Cup. A qualified audio/video systems technician can make your hangout the envy of the neighborhood.
The Backyard Ice Rink
Want something more active for you and your family? Cultivate a love for and appreciation of hockey in your kids by turning you backyard into a hockey rink. There is nothing like lacing up the skates and zipping around in the cold winter air, peppering shots at the goal. You can have a pick-up game with your friends, or watch your kids take their first tentative steps on ice, and dream of being Jonathan Toews or Ryan Miller. Having a rink is a great way for a family to bond, and provides unparalleled outdoor exercise for the kids. Just as good, it teaches them how much fun hockey is, which will make them even bigger fans when you go inside, warm up with some hot chocolate, and flip on the game. Your kids will light up when you explain that not too long ago, the stars of today were out in their backyard, dreaming of the NHL. Best of all, NiceRink technicians can create a rink perfect for whatever your backyard can fit, install the rink, and even take it down come spring- leaving you time to watch the playoffs.
Live the Colors
When people walk into your home, you don't want a wayward, unplanned color scheme to make them think you were a Devils' fan. You're a Rangers man, and don't let anyone think otherwise. Friendships have been broken up over such things, and wars started over less. A qualified painter can help you make sure there is never any confusion over which colors you bleed. They match the ones on your wall.
The Bar
Having your friends over to watch the game? Want to avoid the sports bar, with its know-nothing yahoos asking the bartender to put change the channel? Make a bar at you house. You aren't required to serve Molson, but you don't have to avoid it, either. A certified carpenter can help you make a high-quality bar in the comfort of your Frozen ManCave.
Foghorn
Maybe your neighbors don't watch hockey. But they should still know when we score, right?
Follow these tips for the ultimate hockey household. Your friends will come over to watch the game, and watch their kids play hockey on your own customized rink. Make this season one your family will never forget. Don't forget, certified contractors can help you every step of the way, until you see your favorite player kissing that beautiful, mythical Cup.
Mitch Logan
save on del.icio.us
Share on Facebook