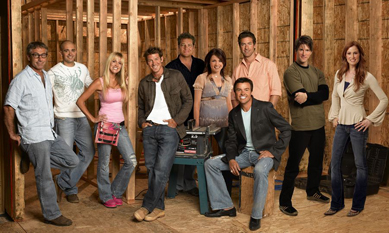 Top 10 Home Remodeling TV Shows
Many of us can't help but be inspired to improve our own homes after watching a few episodes of the literally dozens of home remodeling programs on TV these days. Of course, no two home improvement shows are built quite the same (and no, we're not talking about sitcom of the same name). That's why we've put together this handy list of Signature Contractors' top ten home remodeling TV shows of all-time.
10. "Extreme Makeover: Home Edition (EM:HE)" – A series that provides home renovations for deserving families. Each episode focuses on a family facing a hardship like a disaster or a severely sick family member. While the family goes on a paid vacation, the producer contacts local contractors, who either remodel the house or simply replace the house entirely.
09. "Design on a Dime" – Given only a 1,000 dollar budget, a design team of decoration and remodeling experts redesign people's homes. In these economic trying times, a show like this really has its benefits, with such practical and cost efficient ideas, proves that any room can be made a little bit better and brighter.
08. "Hidden Potential" – A series that helps potential home buyers visualize what their dream home could look like before they buy it. In each broadcast, a home buyer looks at three separate homes that need renovation in order to meet their needs for the house. During the tours, a design expert show computer-generated graphics that showcase the home's "hidden potential."
07. "Hometime" – A good old-fashioned remodeling show, "Hometime" showcases both do-it-yourself and more sophisticated contractor projects, varying in scope from straightforward house assignments to fully completed households. The episodes have covered several features of home maintenance and construction.
06. "Renovation Nation" – Your typical remodeling show with a twist, host Steve Thomas shows you how you can make your home more environmentally friendly as well as showcases houses with notable "green" features.
05. "Color Splash" – Presented by the first winner of HGTV Design Star David Bromstad, this home remodeling show takes everyday rooms and renovates them from boring to exciting. Throughout the show, viewers are also given valuable suggestions from David Bromstad on how to create their room makeovers.
04. "Bought and Sold" – This program showcases twelve specific realtors who work out of ReMax Village Square Realtors located in northern New Jersey as we follow them on their own remarkable process of home remodeling. For all you amateur real estate brokers out there, this just might be the program for you.
03. "The Real Estate Pros" (originally titled The Real Deal) – Follow Richard C. Davis and his crew from Trademark Properties of Charleston, South Carolina as they purchase and renovate a piece of real estate and notably includes potential profit of the "flipped" property, or buying an asset and quickly reselling it.
02. "Buy Me" – Probably the most popular program on HGTV, this program showcases the total process of home remodeling in a six month time period, from actually getting a property, listing the home, repairing and restoring, the open house, as well as additional home inspections, negotiations and eventual selling. The real highlights are the occasional arguments that flare up between the real estate agents and the sellers.
01. "This Old House" – The Granddaddy of all remodeling shows, This Old House began in 1979 as a 13-part series for a local Boston PBS affiliate. The program quickly grew into the most popular of the remodeling shows, providing the format for all subsequent improvement shows. The show's enormous success was also no doubt due to the irresistible charms of archetype handyman Bob Villa, the host for the first decade.
--Greg Stall
save on del.icio.us
Share on Facebook