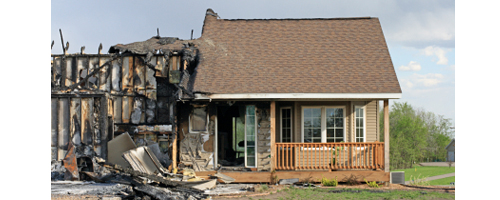 Fire Restoration & Reconstruction
Wildfires caused considerable damage again this year in California, destroying miles of land and threatening the homes of many residents. Fire damage to our homes, businesses or land, whether the product of wildfires or accidental blazes, often results in serious financial and emotional hardships. The consequences of fire damage can range from massive losses of personal belongings and property to, at worst, the loss of lives. For homeowners dealing with fire damage, the only way to reconcile with the sudden and unexpected tragedy is to start picking up the pieces. Today there are many home contractors who specialize in fire restoration and fire damage repair, as well as other valuable contracting services; they can help individuals who've experienced minor to severe fire damage in their homes.
After the Fire: What to Do
After a fire occurs within a home, there are many areas to assess for damage and necessary repairs or replacements. A fire can not only wreak havoc on a home's interior design and contained possessions, there can be damage to electrical systems, contamination by harmful or toxic gases from the breakdown of chemical solvents and substances, and massive structural damage. Here's a helpful list of actions you can take in the event of a fire to minimize further loss or damage:
Transport all family members and pets to an area of safety
Contact the police and the fire department
Once the fire has been contained and eliminated, wait until the home is secure before re-entering the building
Extensively photograph the damage for insurance purposes
Turn off air conditioning and heating systems and change the furnace filters
Set down clean towels or fabrics through damaged areas and limit traffic to prevent further soot contamination
Remove undamaged valuables and possessions from the home
Encourage ventilation by opening doors and windows
Have all electrical fixtures and appliances checked by a contractor before attempting to clean or use them
Check all food items and perishable substances for contamination
Consult with a home contractor for estimates on fire restoration services and fire cleanup
Before getting started on fire restoration plans, it's important to file a claim with your insurance company. Make an inventory of all lost or damaged property and check your homeowners' policy prior to filing with an adjuster to gain the most returns. Once your claim is underway, it's time to begin the fire damage assessment and restoration process.
Cooling Down and Cleaning up with Fire Restoration
After ensuring the safety and security of the home, fast timing is of the essence for effective fire restoration. In addition to the fire itself, smoke and soot are powerfully destructive forces that quickly take their toll. In the aftermath of a fire, smoke and soot (potentially toxic and carcinogenic) accumulate on appliances, furniture, upholstery, etc. and cause irreparable harm if not removed swiftly. The best option for preventing permanent staining, discoloration and corrosion of valuables from smoke and soot, is to get started with fire restoration measures as soon as possible. A home contractor with fire restoration experience should be able to assess the home's conditions, and provide fire cleanup and restorative services that include:
Emergency board-ups
Electrical repair
Drywall and structural repair
Floor coverings
Foundation repair
Carpet cleaning and restoration
Painting
Furniture restoration
Lastly, remember to outfit your home with the proper fire safety measures, and always have an emergency exit strategy prepared in case of a fire or natural disaster.
NOTE: For people recovering from fire damage caused by wildfires in Yorba Linda, Corona, Montecito, and Anaheim, California, Signature Contractors is working with Mallory Construction to help homeowners rebuild throughout the area.
save on del.icio.us
Share on Facebook