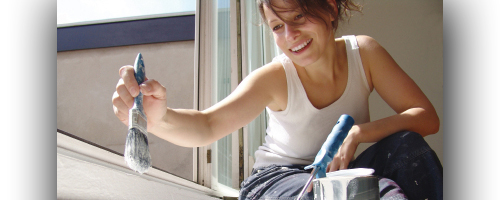 5 Summer Home Improvement Projects
Summer is a great time to get those big outdoor projects taken care of. Not only can you enjoy the friendlier weather of the summertime, but you're also preparing your home for the less than friendly seasons waiting just around the corner. The problem is knowing where to start and what projects make the most sense to get done now. So, here's a look at some of our tips for summer home improvement projects.
Summer Home Improvement Project #1: Put in a sprinkler system
This is a great summer project that you will enjoy for years to come. Installing a sprinkler system should only take a day or two depending on the size of your yard and it is a relatively inexpensive summer project that leave your lawn and gardens looking lush and green.
Summer Home Improvement Project #2: Install a Paver Patio
Paver patios are great for outdoor entertaining. Paver patios add to your outdoor living space by providing a safe surface for your barbeque and your outdoor fire pit. There are many different styles and colors of paver stones. There are also many different options when it comes to the pattern of the installation. Local contractors can give you a quick estimate on a patio installation and have it built before your next big gathering.
Summer Home Improvement Project #3: Build a New Fence
Building a new backyard fence is another popular summer home improvement project. A new fence can do wonders for the appearance of a yard. There are many types of fencing you can buy, so talking with a professional can help you determine what type of fence is best for your yard.
Summer Home Improvement Project #4: Paint the House
A house in need of new paint poses the risk of ending up with damaged siding. You cannot put off painting the house forever. Having the house painted is a great summer project, and with many professional painting contractors offering special offers this time of year, why not give you're home a new, rejuvenated look?>
Summer Home Improvement Project #5: Landscape the Yard
Landscaping is great to do over the summer. The weather is usually consistent for planting and you can most likely control the amount of water your new plants and lawn are getting, ensuring that the new vegetation isn't over watered. Installing new landscaping in the summer allows the plants to get rooted prior to the cold winter weather and will leave you with a spectacular yard in the spring. Professional landscapers and designers can also help you get the best use of your yard, with out-of-the-box to make your allotment stand out from the crowd.
Painting the house, building a patio, new landscaping, new fence or installing an irrigation system-- all the projects will add value to your home. Finding an experienced professional in your area who can help you with your various home improvement projects is a great place to start. So, it's a beautiful day. Let's get started!
--Carrie Aker
save on del.icio.us
Share on Facebook