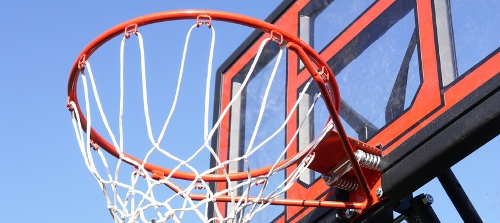 Some Helpful Tips for Installing a Basketball Hoop
Installing a basketball hoop is a fairly simple operation that can provide years of fun and exercise for all ages. Whether you are a parent introducing your children to the basketball, a child pretending to be Derrick Rose or Kevin Durant, a player working on your jump shot, a kid banging around with his friends day in and day out, or you just want to shoot around, a home hoop is a great way to play. There are few things more satisfying than the gentle swish of a parted net, or the stolid, American sound of a dribbling basketball, a sound that echoes from dusty heartland driveways to the asphalt playgrounds of the city. This article will give you tips on how to join that tradition.
CHOOSING YOUR HOOP
There are three major types of basket that you can install: in-ground, mounted, and portable. There are several factors in deciding which hoop you want, perhaps the most important being space and shape of your driveway. We'll discuss what you'll need in each section. The mounted is the hoop that goes on a pre-existing structure, typically your garage. A portable hoop has a broad and heavy base that can be transported, and the in-ground is the all-but-permanent hoop on a skinny pole, most akin to what you see on a public court. They all have their benefits. We'll start with the easiest.
PORTABLE HOOP
This is the easiest one to put up, of course, as you are basically just installing it out of a box. A few tools is all you will need. The benefit of this hoop is, obviously, its portability and adjustability. It is a good one to buy while your kids are young, as you can easily adjust the height and get them into the game. Or for you, if you want to pretend to be able to dunk. The drawback is a big base, which makes it a little dangerous during a more aggressive game. This is good one if you want to have a regulation hoop on a standard driveway without digging a hole.
MOUNTED HOOPS
This is the hoop that you install on a garage, or a car-hold, or a roof if you live in a small house. This is a good hoop to have if you have a long and narrow driveway. You obviously can't install a pole in front of the garage, and putting the pole on the side makes for an obverse court. This will help you with your shooting from the wings, but not much else. The drawback of a mounted hoop is that you can't control the size of your garage, which might make the hoop too high or too low (although they will usually be around 10 feet). Another drawback is the ease with which you can run into the garage door while attempting a lay-up. When installing this, you'll will have to make sure not to damage the gutters. If you do, call aqualified gutter repairman.
IN-GROUND HOOPS
This is perfect is your driveway is long enough to play a decent game and you are ready to commit to it. The in-ground hoop is a semi-permanent part of your household, as it is difficult to put in and to take out (the author still sometimes goes by his childhood home, and sees the hoop still there, rusting under new ownership). But it is worth it, as you always have a place to play. There is also a sense of wonder during the winter, as you see the basket buffeted by snow, but knowing that when spring's thaw comes you cans tart to play again.
INSTALLING IN-GROUND HOOP
What you are going to need here is a hole and cement. It isn't particularly complicated, but you also have to make sure it is done correctly. You don't want it your pole leaning to the side or drooping forward or back. While the personal quirks might help you clean up at home, anytime you play anywhere else your game will suffer. The cheapest way to do it is just to dig a hole (about a foot deep) and pour in the concrete, followed by inserting the pole. But for more accuracy, you can purchase an anchor for the pole, and let that dry in the concrete, and then put the pole in that. The benefit is that you don't have to hold the pole perfectly straight while it dries- just make sure the anchor is level.
Any way you play basketball is a good way, whether you are just starting, are serious about playing, or just want a place to shoot some solitary hoops, freeing your mind, falling into the graceful rhythm of dribble-shoot-retrieve-dribble. You can install these yourselves, or get some help from qualified contractors.
--Mitch Logan
save on del.icio.us
Share on Facebook