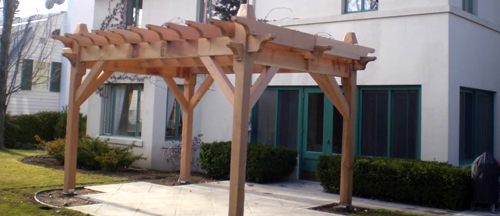 Building a Pergola: Types, Uses and Costs
by Gary K. Johnson
Adding a pergola to your patio or yard is an excellent way to add comfort and character to your residence. A pergola makes an excellent space for entertaining company due to the shade and atmosphere it provides.
The quintessential pergola is a wooden structure comprised of four wooden columns that support lattice framework, usually decorated with flowers or vines. The latticed roof is what sets a pergola apart from the solid-roofed cousin, the gazebo. Many people prefer a pergola to a gazebo, as the pergola establishes an airy, garden atmosphere and allows some sunlight to filter though.
Pergola Permutations
There are hundreds of different variations on the pergola. Pergolas can be made from a range of weather-resistant woods including pine or cedar, though frugal homeowners can opt for a vinyl pergola, which sometimes include galvanized steel inserts in the support beams for added stability. Those tending towards extravagance may enjoy the hexagonal, or 5-columned, pergola. A pergola may even be built with a floor, steps, and railings.
If you've got a spacious garden or yard, you may decide on a freestanding variety. This pergola type makes an attractive centerpiece for a garden and offers a shady place for gardeners to rest.
The entryway pergola is situated above a doorway and provides a gradual transition from inside to outside. It can be situated over a patio or porch. These pergolas can have two, three, or four columns on one side, with the other end of the lattice roof attached to the house.
The walkway pergola is used to adorn a sidewalk or enhance a garden path. This variety usually has more than four columns to support its lengthier frame.
Contractor Costs
If you're the handy sort, you may elect to erect your own pergola with the assistance of a few friends. Though constructing your own pergola can save money, building one yourself can also take more time and will likely limit the design and quality of your pergola.
While hiring a contractor is certainly costlier than doing it yourself, there are many benefits that offset the price. First, it ensures that you get the type of pergola that you want. In addition, the job tends to get done quicker, as the carpenters are generally practiced pergola builders. Contractors have the know-how, the tools, and access to the materials, which all go a long way towards taking the stress off of you. In most cases, contractors also offer some type of quality guarantee. Should a mishap befall your pergola post-completion, you can always have the contractor correct the problem.
The cost of pergolas typically ranges from $2,000 for the smaller, thinner types to $10,000 for the larger or more elaborate ones.
If you're interested in adding a pergola to your home, contact us to learn more or to arrange for free estimates and on-site assessments from local contractors specializing in this type of project.
save on del.icio.us
Share on Facebook