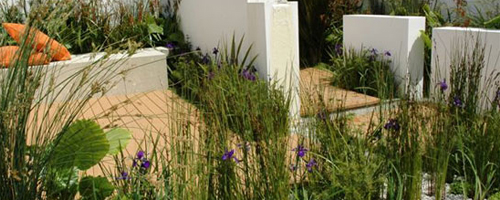 Building a Rain Garden
Green building trends in home construction and interior designs are now spreading to outdoor home improvement projects. While most of us anticipate cleaning out the garden plot and firing up the grill as summer approaches, "greener" possibilities for outdoor home projects include building a rain garden. A rain garden is a great way to improve and beautify your home's outdoor area, while practically diverting storm water runoff, and preserving the quality of local water sources.
What is a Rain Garden?
While it may be a dressed-up version of a retention pond or a drainage ditch, a rain garden lets homeowners reduce water pollution and runoff problems without creating an eyesore in their yard. Rain gardens are typically man-made depressions in a yard or outdoor property that contain natural plants, grasses and flowers. Often situated close to the driveway, the sidewalk, or near the roof's gutter system, rain gardens catch natural runoff from these areas, then gradually filter rain and precipitation back into the groundwater system.
Rain gardens are especially useful landscaping fixtures in regions with heavy precipitation, and for homes in close proximity to natural waterways. Environmental studies have shown that a great deal of water pollution occurs when runoff from residential homes travels to ditches and sewer systems, then filters out to natural lakes, streams and rivers. Rainwater that comes in contact with our roof, driveway and other outdoor structures absorbs fertilizer and lawn chemicals, spilled gas, pet waste, oils, and salt composites. These pollutants then travel back into our natural water bodies.
Where Should I Build My Rain Garden?
Once you've decided a rain garden would be a useful, wonderful addition to your property, there's a lot of options to consider before breaking ground. One of the first decisions to make is choosing the location for your rain garden. Here are some things to keep in mind when determining your rain garden's location:
Build your rain garden near the edge of your roofing system, your driveway, or the sidewalk on your property line. You want to have the rain garden close to direct runoff areas for easier diversion of rainwater.
Your rain garden should be at least 10-15 feet from your home so that water retention doesn't interfere with building foundations.
Don't build your rain garden beside large trees; especially walnut trees, which produce the chemical juglone and can inhibit plant growth. Large underground root systems can also interfere with the location and effectiveness of your rain garden.
Be mindful of underground power and utility lines when considering the construction of your rain garden. Make sure to get the area marked before beginning any intense landscaping or excavation work.
Rain Garden Soil Preparation
Once you've found a good spot for your rain garden, it's time to make sure the soil is of the right consistency and quality to sustain your rain garden. It's important that rain garden soil be very absorbent so that water runoff is adequately drained. Aspects such as pH levels and soil composition usually need to be evaluated prior to any excavation and rain garden construction.
Most residential plots of land will require the earth to be dug up and loosened before a rain garden can be accommodated. During building construction or home remodeling work, soil is compacted from the pressure of heavy equipment and activity, making it less absorbent.
The pH should be tested to get the best idea for what your soil's needs are and what can be cultivated in it. A professional landscaping contractor should be able to help test your soil, or connect you with a specialist who can.
Some soil replacement will likely be needed. The recommended rain garden mixture is about 50-60% sand, 20-30% compost and 20-30% topsoil. Since clay is very unabsorbent, it should be absent or replaced in the rain garden mixture to prevent waterlogged conditions.
The drainage rate of your rain garden will also be important to how well it functions with absorbing water runoff. To test this, you can dig a hole several inches deep into the soil and fill it with water, then measure how quickly the water is absorbed. The absorption rate shouldn't be any slower than an inch per hour.
Designing Your Rain Garden
The design of your rain garden will be specific to your individual tastes, the size and scale of your home and property, the amount of estimated rain water your garden will receive, and the regional availability of certain plants and flowers.
The size of your rain garden will partly depend on the amount of rainwater it's intended to absorb. You can estimate this by calculating the square footage of your roof and the paved areas that will be directing runoff to the rain garden. Most single-family homes should be well taken care of with a rain garden of 200-400 square feet.
The choice of plants and flowers you add to your rain garden is entirely up to you, but native plants and flowers are typically recommended. Native plants and flowers have developed over time to withstand local climate and weather conditions; meaning they can flourish with little assistance from you, and through environmental stresses. They will also have a natural relationship with local wildlife and a strong root system to help sustain your rain garden and its soil for a long time.
Non-native plants are also an option for your rain garden, and they can be selected for their vibrant colors or their attractive shapes and fragrances. In the event you do choose non-native plants, the amount of required care and maintenance for your rain garden will likely increase.
Another bonus of using heartier, native plants and flowers to design your rain garden is that they won't rely on growing chemicals and pesticides to fortify them.
Building Your Rain Garden
Now that you've picked a garden location, prepared the soil and planned what to put in the rain garden, it's time to complete the process. You can get very specific in terms of the border shape of your rain garden and the way you organize your the garden's plant life.
A rain garden is ideally constructed to be fairly level, thus allowing for the rain water to be distributed throughout the entire garden. Even so, a rain garden typically has variations in moisture levels, from very wet soil, to a moderate area, and even a drier outer edge. These variations can help you arrange your plants in accordance with their watering needs.
For most homeowners, it is beneficial to have the help of a professional landscaping or land preparation contractor. They can give you insightful tips and advice for your own rain garden DIY project, or they can perform the actual excavation, planting and construction process for you.
Depending on the style and setup of your rain garden, a professional home contractor who's experienced in implementing irrigation systems may also be helpful. Expert landscapers can be necessary for those homeowners who have a sloped property, or when it is deemed necessary to construct an underground drain system of piping and gravel to facilitate easier drainage for your rain garden. Professional landscaping contractors can also help you construct more modern rain garden styles, such as a terrace rain garden or a "weeping" rain garden, which allows moisture to "weep" from a retaining wall siding.
save on del.icio.us
Share on Facebook