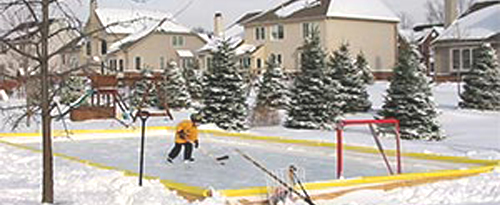 Chicago: Backyard Ice Rinks All the Rage
When the cold Midwest weather sets in and the snow starts to blanket the ground outside, it's the perfect opportunity to grab your skates and hit the ice. But it's often hard to find a place to skate, unless you have a backyard ice rink, Chicago's popular trend in outdoor winter fun. Not only are personal ice rinks entertaining, but they're nostalgic as well, bringing people back to the old days of hockey playing on frozen ponds.
For anyone who loves hockey, or just ice skating in general, an ice rink is an ideal addition to any yard, especially if you have the room to spare. Locals can install backyard ice rinks from Naperville and Wheaton to Schaumburg and Buffalo Grove; anywhere that has children and parents alike who want to get out and skate during the winter months.
It's difficult enough to log ice time in the winter with limited space at indoor rinks, without the added hassle of commuting to and from various locations around the city. A Chicago backyard ice rink is both convenient and reliable. Imagine stepping out your door and having an ice rink just for you and your family! So how do you get a fabulous backyard ice rink in Chicago? Well, there are some important steps to take and factors to consider first.
Basics of Backyard Ice Rinks in Chicago
If you are considering getting a backyard ice rink in Chicago, Des Plaines, Downers Grove or Bolingbrook, there are some important things that you should think about:
Size: Check out the size of your backyard and consider how much open space you have. Most backyard ice rinks smaller than 20 x 40 feet are not worth buying, since there is not a lot of room to skate comfortably.
Access to Water: Make sure when you are selecting a spot for your Chicago backyard ice rink that you place it near an accessible water source. Having water nearby makes it easier to fill and easier to resurface.
Distance from House: With pucks flying this way and that, there is potential for damage to be done to your house. It's smart to place the ice rink a good distance from the house, but close enough that it isn't a hike to get to. Also, consider placing the rink parallel to the house, so pucks are less likely to hit your home.
Levelness and Pitch: Most backyards are not perfectly level, and many have a large pitch to deal with. Generally, the pitch should be shallow, less than six inches, but it is possible to build an ice rink on a larger pitch. It all depends on how much water you want to use and how much siding you'll need.
The Cost of Backyard Ice Rinks in Chicago
While the idea of a backyard ice rink in Chicago sounds incredible—and it is—you do need to consider the overall cost of building one. The price of a Chicago backyard ice rink depends on the size of the rink, as well as what kinds of amenities you purchase with it—such as brackets, boards and resurfacers. The serious hockey fans usually opt for the largest available rink, if they have the room and the budget, and these can cost upwards of $11,000. For those who are a little uncertain about how much they'll use their ice rink, smaller, starter rinks can be purchased ranging from $300 to $800. If you decide your starter rink is too small, you can always expand next year. But no matter what size you get, most ice rink equipment can be stored and re-used in the future, so you can enjoy your Chicago backyard ice rink for years to come.
Chicago Backyard Ice Rink Resources
If you're struggling with all the variables of your Chicago backyard ice rink, there are people who can help. Nice Rink has the knowledge and tools to help you build an outdoor ice skating arena of your very own. Along with customized liners and reasonable price quotes, Nice Rink also provides convenient ice rink packages for every level of consumer, whether you're a long-time user or just starting out. Nice Rink offers easy rink-in-a-box packages for a reasonably low price, which will get any rookie ice rink builder off the ground. You can contact us to help you find a local contractor to help you install your ice rink, making sure it's set up safely and properly.
If you want to learn more about building a backyard ice rink in Chicago, Skokie, Glenview, Elmhurst, Oak Brook, Aurora or Elgin, or you're ready to purchase a Nice Rink for your home, then click here to order your backyard ice rink.
save on del.icio.us
Share on Facebook