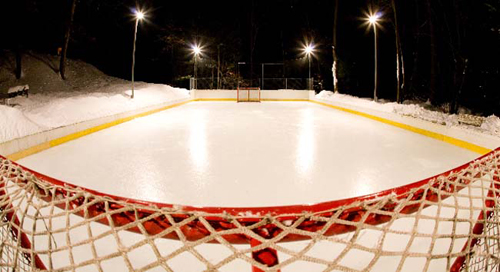 NiceRink: Backyard Ice Rink Installation

Cold Season Just Got a Lot Cooler with NiceRink® and SignatureContractors!
Go to the Backyard Ice Rink Order Form Page
Whether you're a high school standout or a Hall of Famer, most of us begin our athletic pursuits right in our own backyards, whether it means installing a regulation basketball hoop, playing catch with dad, or a game of flag football with friends. For aspiring hockey players and ice skaters, though, the backyard has rarely offered such an opportunity to hone one's skills… until now!
SignatureContractors is happy to announce our new partnership with NiceRink®, the customized backyard ice rink that is revolutionizing how kids and parents alike think about winter sports! While NiceRink didn't invent the idea of the backyard ice rink (many generations of hockey families have attempted their own makeshift versions), the company's state-of-the-art, industrial-strength plastic liners and durable brackets have allowed NiceRink owners to enjoy all the perks of a professional skating rink without the constant hassle associated with old fashioned outdoor models.
Thousands of families have purchased NiceRinks over the past decade, and the frigid winter ahead is expected to see an even greater demand for this convenient, affordable, and healthy form of home entertainment. Better still, through SignatureContractors' involvement with NiceRink this season, you can have your entire NiceRink installed by reputable local contractors in just a matter of hours—- all at a great, discounted price! It doesn't matter if you're interested in a 20'x40' start up rink or a regulation-size hockey rink. Our team of professionals can build your NiceRink to an endless variety of size specifications, so you'll always have a playing surface perfectly suited to your backyard! And when spring rolls back around, you can have our same team of pros come right back to take down your NiceRink for seasonal storage.
So, to recap, with NiceRink and SignatureContractors you get:
Custom, professional installation and deconstruction
Ultra durable liners, brackets, and sideboards
Special discounted pricing
Years of wintertime family fun for your aspiring hockey star or figure-skater
If you're ready to make this winter one to remember, contact us at SignatureContractors today and ask about our exclusive NiceRink installation program, including top contractors from throughout Chicago and the Midwest. There's no better time than now to truly bring hockey home!
save on del.icio.us
Share on Facebook