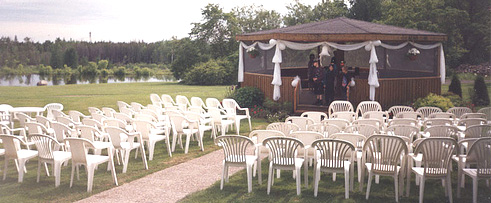 Your Own Backyard Gazebo
Whether you're having barbeques, graduations, wedding receptions, or birthday parties, a gazebo is the perfect place to host summer celebrations in your own backyard. Ideal for anything from romantic evenings or a family get-together, gazebos are becoming an extremely popular addition to the modern American home. Here at Signature Contractors, we're offering a convenient step-by-step on how to build your own gazebo.
Constructing a gazebo from an original design can be real tricky, and we recommend how–to and home improvement literature, which are available at any book retailer. If you aren't interested in building your own gazebo design or starting this project with raw ingredients, we suggest a prepared kit. These supplies are also accessible at your typical home improvement stores. Gazebo construction isn't unlike building a porch, patio, or deck, but it definitely has its unique aesthetic elements, as well. This is why working with an experienced contractor might be a wise course of action.
Be Prepared:
As you select the location of your future gazebo, steer clear of low areas on your property where water may collect. Ideally, your site should be in a high and more importantly, dry place. Likewise, a higher elevation will take full advantage of a picturesque view.
If you decide to do this without the help of a contractor, be sure you are not violating any local building codes. Depending where you live, you may need a permit before you strike ground.
Construction:
Clear the area of any plants and shrubberies. With your gazebo assembly kit and a posthole post-hole auger, situate the pressure-treated posts 30 inches into the ground. Once positioned, fill the breaches with quick-setting concrete.
Using the decking screws from your kit, attach the posts with the provided wood planks. Use a leveling tool to make certain the entire frame is level.
Shore up the deck's mainframe with sufficient joists at the midpoint and insert cross supports and a hub post. Secure the wooden planks to the mainframe using deck screws.
Assembly:
As the floor of the deck should now be complete, begin to assemble the actual gazebo by attaching the remaining pieces to the floor. Your purchased gazebo kit instructions should make the remainder of the assembly relatively straightforward.
The manufacturer's instructions are incorporated into each kit with several styles supplying the gazebo flooring as well. Follow the instructions and bring together the roof. After the roof is assembled begin putting on the shingles.
With the remaining screws, fasten the gazebo to the wooden floorboards and finally insert steps to link the gazebo to the yard.
Safety First:
Although most deluxe gazebo kits these days come precut with the biggest parts preassembled with no sawing necessary, play it safe. Always be sure to wear gloves and safety goggles.
Use your ladder only on a level or stable surface unless the base has been secured to avert displacement.
Seem overwhelming? No problem! If you're interested in having your own gazebo installed but don't want to deal with complicated kits and confusing instructions, Signature Contractors can help by arranging a free project assessment from a leading home contractor near you. These professional builders are trained to adjust construction to your specific needs and maximize your savings. Contact us today to get started!
save on del.icio.us
Share on Facebook