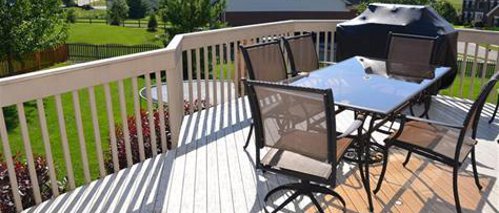 Dream Decks: New Survey Reveals Home Owners' Ultimate Deck Ideas
There are an estimated 30 million American homes that have outdoor decks, and each summer thousands begin contracted or do-it-yourself deck renovation or building projects. But what would deck enthusiasts do to spruce up their decks with a few extra grand in their pockets? As part of Thompson Water Seal's "Deck of Your Dreams Sweepstakes" deck owners were asked what improvements they might make if given a $15,000 allowance to modify their existing deck or patio. With over two-thousand responses tallied and categorized from the Facebook survey, the results might surprise you.
Survey respondents were asked to rank eleven deck improvement options from one to ten in terms of their most and least desire deck improvement ideas. The winning choice with 47% of deck owners' top vote was the decision to tear out their decks and start from scratch. While the folks at Thompson Water seal were caught off-guard by this, such a response has some financial logic. Do-it-yourself decks can cost as little as $2,000 plus inspection fees, and Remodeling Magazine estimates even brand new 16'x20' decks, including contractor labor, range $9,075-$12,838 and generally don't appreciate with age.
Improved deck or back yard lighting was the second favorite choice, at 44%, for those who imagined lit walkways or adding floodlights for entertaining guests into the evening. Installing outdoor lighting is considered by some landscapers to be the cheapest way to improve the safety and appearance of your house and property.
Next in line at 41% were people who imagined adding built-in features or landscaping options with their decks, such as attached seating, flower boxes, or storage for outdoor gear. 34% of survey-takers dreamt of new lounging or dining furniture to complement their decks. A rising trend in outdoor kitchens that many top contractors predicted at the outset of 2011 didn't manifest in the deck survey with only 28% of survey takers choosing to incorporate grilling or cooking stations to their existing set-up.
While over 224,740 deck-related injuries were reported to the Consumer Product Safety Commission between 2003 and 2007, usually in regards to decks structurally failing from shoddy workmanship or neglect, fewer numbers of survey respondents opted for more practical repair-type improvements. 29% said they would change the lumber structure of their decks to exotic or sturdier composite wood types, and only 25% elected to repair damaged wood. Rounding out the bottom of survey were 24% of survey takers who said they'd change the color or stain of the deck, and only 21% wanted to add a water feature such as hot tub, pond, or burbling fountain.
At the end of the survey people were asked if they had any improvement ideas that didn't fit in with the eleven categories offered by Thompson Water Seal. A few of the practical ideas submitted included fire pits and custom enclosures to provide needed shade or a touch of privacy while people were enjoying their decks. The more imaginative responses detailed spaceship launch pads and gigantic board-game decks. While Thompson claims it will take all survey ideas into consideration, we'll have to wait until Thompson Water Seal's "Deck of Your Dreams Sweepstakes 2012" survey comes out to see if any of these whimsical ideas make the list.
Has all of this deck-daydreaming left you pining for your own deck or home renovation project? Contact us to schedule a free consultation with our certified contractors or landscape specialists.
--Dean Anderson
save on del.icio.us
Share on Facebook