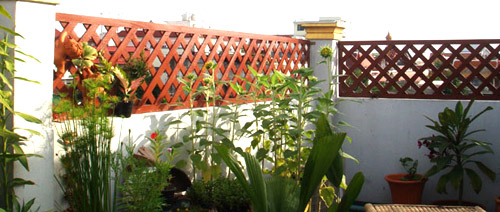 A History of Rooftop Gardens
by Kate Blair
As long as humans have been building cities, they have also been building urban gardens in which to escape. The rooftop garden is as ancient as the Hanging Gardens of Babylon. This wonder of the ancient world was allegedly built to provide such an escape for King Nebuchadnezzar's wife, who missed the green mountains of her homeland. There in about 600 BC, the idea of creating a vertical green space was born. America has a rich history of beautiful rooftop gardens, but the movement towards utilitarian urban gardening is largely a more recent one that has arisen with increasing environmental awareness.
A rooftop garden is an umbrella term for the utilization of a rooftop, or other open urban space, for a garden. There are many potential uses for a rooftop garden. The garden may range from a purely aesthetic escape from the cacophony of a city, or it can serve the basic utilitarian purpose of local food production in an urban environment. Such gardens can vary in scope from a personal container garden to large-scale landscape architecture in the vein of Chicago's Millennium Park, which boasts a large green roof constructed atop a parking garage. There is a great deal of un-utilized space in cities, in particular, the wasteland of building roofs, which are usually an ugly jumble of pipes, vents and other detritus. With all of the environmental and social benefits of a roof top garden, there is no reason not to transform a dingy, vacant rooftop into an urban oasis. Luckily, these days, roof top gardening seems to be on the rise.
An urban garden has numerous environmental benefits. Plants have a large impact on air quality. In addition to cleansing the air, a garden on your roof will might also help to decrease energy use. Because cities are constructed of surfaces that tend to absorb heat, a city can be, on average, 5 to 12 degrees warmer than its surrounding areas. Green plants will not only cool the air through evaporation, but also provide a surface that will reflect the sun instead of absorbing it, the way concrete and pavement do. Regardless of your intentions, it is inherently more pleasurable to look down at a view of tomato plants or grass, rather than the usual labyrinth of dirty venting systems.
With the recent worldwide movement towards greener farming practices, there has been a surge of interest in the urban garden. With careful planning, green spaces can be integrated into vertical construction, providing an outlet for local food production. On a smaller scale, those interested in farming can create their own container gardens. A little sunlight and soil is all that is really necessary to nurse high-quality produce that is only a few footsteps away.
To learn more about modern rooftop gardens or to enlist a local contractor to assist in the creation of your own roof garden for a home or office, contact us today!
save on del.icio.us
Share on Facebook