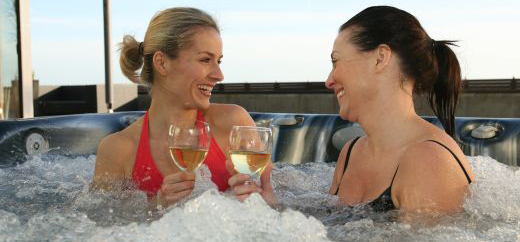 Choosing a Hot Tub: One-Piece vs Wooden Staved
By Elena Elfimova
A hot tub is a large home-made or manufactured tub or small pool full of heated water and used for soaking, relaxation, massage, or hydrotherapy. It's a mini-vacation right in your own backyard; they are often sheltered for protection from the elements, as well as for privacy. The question is, which type of hot tub is right for you (and no, we're not including the kind that turns into a Hot Tub Time Machine!)
Essentially, there are two different styles of hot tubs:
Wooden-staved soaking tubs
One piece plastic tubs (more commonly knows as spas)
One Piece Hot Tubs
One piece spas, also known as unibody spas, are formed as one piece with shapes that provide a variety of seating arrangements within the tub. Each individual seat is typically equipped with one or more water jets that allow for water direction of water at various parts of the body. The water flow may be aerated for additional effect and some or all of the jets may also automatically move or rotate, providing a massage-like effect.
Cranes are often used to assist in the installation and place one piece spas in a backyard or other locations that do not have adequate clearance for carrying the tub.
Spas usually have between one and four water pumps, with one circulation pump serving the heating and filtration water loop and the other(s) driving the hydrotherapy jets. Sophisticated computer controls are emerging as common features; many tubs now are equipped with extensive lighting, sound systems, and even flat panel televisions with DVD players. Although wooden tubs were the most common type of hot tub in the 1970s, one-piece hot tubs now dominate the market as they are less expensive to manufacture, easier to install, and more energy efficient.
Wooden Staved Hot Tubs
This style of hot tub is constructed with wooden staves held together with steel bands and is charmingly similar to a large barrel. Redwood, cedar, and teak are the most common types of wood used in the assembly of hot tubs.
Wooden staved hot tubs typically have taller walls as well as greater depth, surrounding the bather with more water than would be found in a plastic spa. Inside the tub, wooden bench seating is common, forming a ring around the inner circumference of the tub. This added effect of buoyancy more comfortably accommodates taller bathers.
While it is common for wooden hot tubs to leak some water 3-5 days after assembly, this is a problem that will subside as the wood absorbs some of the water and expands. Cleaning the hot-tub is fairly simple: just drain the water, rinse it out, and refill. For a more thorough clean, lightly scrub with a sponge and cleaning product. The biggest concern of a wooden hot tub is possibility of decay. Since it is made mostly of wood, owners must be careful to dry the tub periodically as to prevent decomposition of the wood as well as the festering of disease-causing bacteria. In addition to the use of a pump and micrometre-range particulate filter, bromine, chlorine or mineral sanitizers are almost always used as a primary sanitizer, and often supplemented with an ozone generator, UV sterilization, and/or silver and copper ion generator (also known as a "spa ionizer").
Pricing
Hot tubs have a pretty wide price range of $2000 to $10,000 that varies based on included features, size of the tub, installation requirements, brand, maker, etc. Most dealers offer complimentary delivery and installation with purchase - be sure to check if there will be any additional costs so you are not surprised.
To learn more about your hot tub options and the hot tub installation process, be sure to contact us today to arrange a project consultation with a swimming pool and hot tub contractor near you!
save on del.icio.us
Share on Facebook